Home > Blog > Finishing an Attic to Create More Living Space
Finishing an Attic to Create More Living Space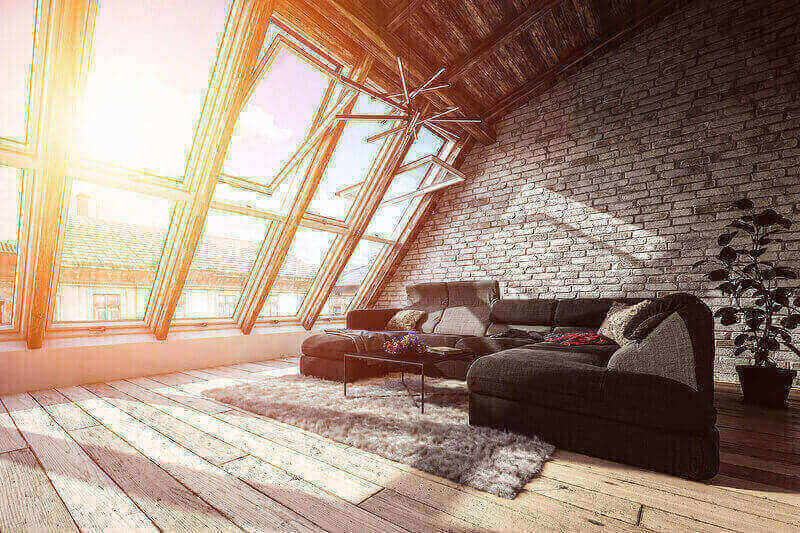 No matter the size of our homes, nearly all of us feel as though we could use a little more space. Maybe the kids are getting a little bigger and need room. Or maybe it's finally time to create that at-home office you've always wanted. Regardless of your reasoning, budget may be keeping you from that additional space you want.
So, if you don't have the ability to extend outwards, why not look upwards? Your attic is prime real estate for your home expansion. It's already an enclosed space, it has available electricity nearby and you don't have to worry about pouring flooring. If you're considering an attic renovation for more living space, read our list of ideas below for finishing an attic.
Attic Renovation Ideas
If the kids or grandkids need a little extra space for playtime, your attic could be the right place to create a space for their imagination to run wild. If you're thinking about converting your attic into a playroom, you'll want to consider how you'll make it easily accessible for them. If you don't already have a set of stairs to the attic, you can add a loft ladder with slip-resistant treads and a safety lock that they can't reach. Adding railing is another great idea for child-safety.
Attic Bedroom
An attic bedroom is the perfect space for visiting family and friends if you don't have enough bedrooms in your home. Create a cozy space with warm lighting, new flooring and multifunctional furniture that works well with tighter spaces. If you're leaning toward this option, remember to add proper insulation to keep it a comfortable temperature during colder months.
Attic Game Room
An attic game room can create a great space for family bonding or gathering with friends. Add shelving along the eaves to display board games and game station games. A folding table can go in the middle of the room and be easily moved for activities that need more space. Want to make the space a little more adult friendly for when friends come over? A bar can be an easy addition.
Attic Bathroom
If your home has plenty of living space but not enough bathrooms, your attic could be the answer. Just remember to get a quote on new plumbing so you can add that to the project budget.
Attic Office
Working from home? You may find it difficult without a quiet space. An attic office can be the perfect solution to keep you focused and motivated. Like with an attic bedroom, you'll also want to make sure the space is well insulated so you can stay comfortable all year long while you work.
Attic Apartment
Looking to turn your attic project into an investment? Consider an attic apartment! You could choose to rent it out permanently or as an Airbnb option for vacationers. You may even want to "rent" it out to your young adult child if they're looking for a space to live while saving money. Just remember that this can become a lengthy and costly project with the inclusion of a kitchenette and bathroom plumbing.
Getting to the Technical Parts
It's important to note that when beginning an attic renovation, you don't want to make changes without looking at the technical side first.
• Building code: Like with all new buildings and renovation projects, you need to consult your local building codes and regulations first.
• Rafters and trusses: Check out your attic and see which you have. Rafters (giant triangles that form the peak of your house) are fine and can even aid in your attic renovation. Trusses (large triangles made up of smaller triangles), however, block off space and will need to be replaced.
• Find out if you need knee walls: Homes with steep angles can make creating a living space more difficult. To make your attic more livable, you may need to consider building knee walls.
• Strengthening the flooring: Your attic flooring may not have the same strength as the flooring in the rest of your home. This is because attic joists have a lower minimal dead load weight. You may need to add more support for a living space.
• Insulation: If your attic is like many others, your insulation is on the flooring, between the joists. In order to make this into a livable space, you'll need to remove the old and add new insulation before the drywall insulation.
Use Self Storage Plus for Storage After an Attic Renovation
When finishing an attic for a new living space, you'll quickly notice that there's less room for storage. If you used to keep your Christmas decorations, financial paperwork or items of sentimental value in your attic, it's time to turn to Self Storage Plus. We offer self storage units near you in the greater Washington, DC and Baltimore areas. You can feel confident knowing that renting a unit with Self Storage Plus means 24-hour video recording, computerized access with personalized access codes, resident managers and no long-term contracts.
Ready to get started? Find a storage facility near you today!