Home > Blog > Home Improvements that Fit Your Wallet
Home Improvements that Fit Your Wallet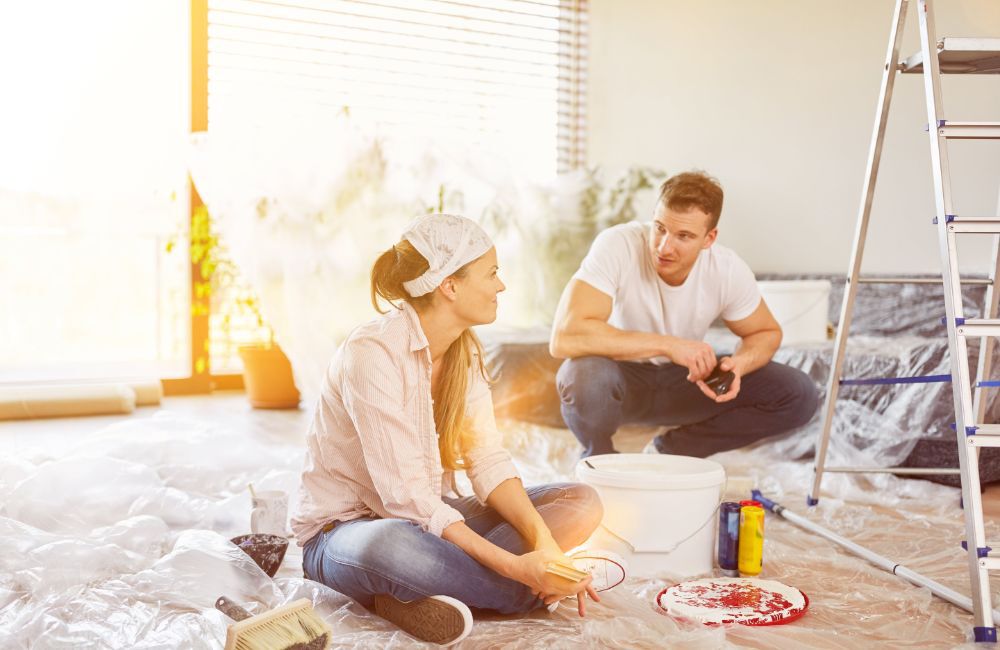 If you've spent any amount of time indoors lately, you may have spotted some things to add to your home improvements list. As your list grows, you may start to feel overwhelmed by the accumulating cost. But there are plenty of home improvement projects you can do that will fit your funds. Check out our list below for home renovation ideas on a budget.
11 Home Improvement Projects for Any Budget
Shine up wooden floors.
If you want to fix up a room but don't want to spend the money on replacing flooring, re-polish the wooden floors. Over time, dust and high traffic wear down the flooring, leaving it dull. Rather than spending hundreds of dollars on replacing your floor, you can refinish it for around $25.
Paint the fireplace.
A fresh coat of paint will brighten any room, even if you're only painting a small portion like the fireplace. Give it a thorough cleaning first to get rid of any built-up grime. Use the same color as your walls for a uniform look or offset it for a bold, contemporary look.
Sew your own curtains.
Sewing your own curtains means you can pick out your own fabric to match the room or make a statement. If you've never tried your hand at this type of DIY before, here is an easy guide on how to sew curtain panels.
Peel and stick wallpaper.
Adding peel and stick wallpaper allows you to go bold without taking a risk. While this isn't going to add value to your home, it can help you create a unique look at a low cost.
Replace a small appliance.
If you have an appliance that's underperforming, it's time to replace it with something new. No matter which appliance you need, there are a ton of different options available now to fit your style.
Add a closet organizer.
Closets are a common place to find a great deal of clutter. An easy solution is to add a closet organizer, so everything has its place. Just remember to measure your space first to make sure your new organizer will fit.
Replace cabinet hardware.
Small details can make a big impact. If your cabinets are looking a little outdated, try replacing the hardware with something new and modern. You'll be surprised how much it transforms the space.
Install a programmable thermostat.
If you have an older thermostat in your home, swap it out for a programmable one. Not only do they look a lot nicer on your wall, but they also save you money over the course of the year.
Clean your carpets.
A vacuum can only go so far. They can get the top layer of dirt and hair, but shampooing and steam cleaning your carpets will get out allergens and many stains as well as making it feel like new again. If it's been awhile since you've deep cleaned the carpets, consider having it professionally cleaned.
Add details to your front door.
Even small touches pack a punch. To create a wholly welcoming area, give your house numbers a new coat of paint, replace old lighting fixtures or add a welcome mat and some large planters.
Add a window box.
If you want to add a little color and depth to the exterior of your home, a window box will do the trick. There are plenty of options, so be sure to find something that fits your style. You can also paint them with exterior paint to match your color scheme.
Store Your Clutter with Self Storage Plus
Another home improvement project is to clear the clutter out of your home. Sometimes making a little more space in your home will give it the feeling of being new again. If you're not ready to let go of your possessions but don't want them cluttering your home right now, consider keeping them in a storage unit with Self Storage Plus! Our climate-controlled units keep temperature-sensitive items out of fluctuating hot and cold spells, and our drive-up units make loading and unloading a breeze.
Find a unit near you in the greater Washington, DC and Baltimore area!