Home > Blog > How to Create a Gym at Home
How to Create a Gym at Home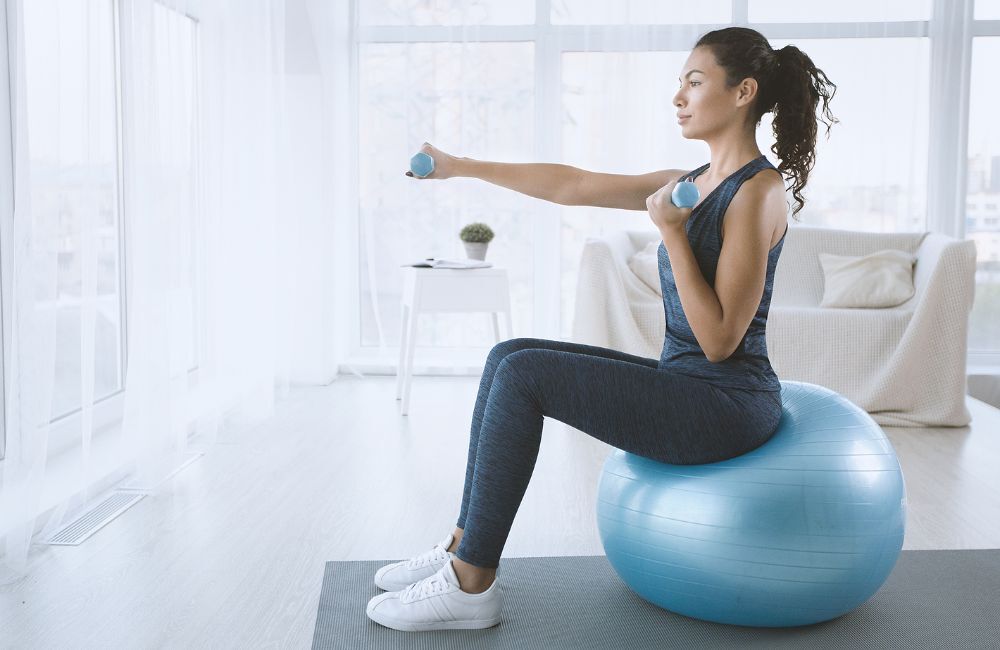 There's a lot of reasons a gym at home makes sense for your life: you have children under your care, you have multiple daily commitments to juggle or perhaps you just don't have the room in the budget for a monthly gym membership. No matter your reason, the important part is you stay active and healthy. If you're looking to set up your very own at-home gym, check out our tips below!
9 At-Home Gym Ideas for Any Space
1. Convert your garage
A large portion of homeowners who have a garage use it as storage space rather than a parking place for their cars. If you have the ability to clear out the garage, why not convert it into your very own sweat space? All you need is a clean floor, a quality exercise mat, some hand-weights and access to music. If you want to get more extensive, a garage has plenty of space for a treadmill, stationary bike or weight bench. If your garage isn't available, you can also do the same set up in an attic.
2. Combine your home gym with your home office.
If you only have one spare room in your home and that's where the home office lives, make it pull double duty. Create a separate area on each side of the room for different functions: one side for your office, the other for your gym. You can avoid clutter with hidden storage for hand-weights, mats and exercise bands.
3. Hang a punching bag.
The great thing about equipment like punching bags is that they can fit into almost any small space. You can hang the punching bag in the corner of your garage next to your other exercise equipment or even in your family room where you can watch TV as you exercise. Just pick a spot to set up the punching bag and start working up a sweat!
4. Place a gym system in a bedroom corner.
You may not be able to convert an entire room into your own personal gym. If you find yourself with just a small amount of space to work with, the corner of your bedroom will do. Lay down a yoga mat and blocks or load in your favorite gym system. If you want to get your heart rate up before the kids start their day, this is an easy way move from waking up to working out.
5. Add a mirror.
Mirrors are often a left-out piece of home gym equipment, but they can have great utilization. A mirror can help you make sure your yoga poses are correct and give you motivation as you do sets of curls, upright rows and free-weight squats. Hang a simple full-length mirror on the back of the door or on the wall and watch your form improve.
6. Put down protective flooring.
If you're going to be dropping weights or running on a treadmill, rubber mats will go a long way in saving your floor and reducing noise. Even if you're working out in the basement, you still want to keep your floors protected from cracks. Rubber mats and flooring are typically inexpensive and easy to install, so make sure you add them to your home gym.
7. Put up a TV.
It's quite easy to stay motivated on the treadmill when you have something to entertain you. Whether it's watching reruns of the hit sitcom, Friends or pumping music through the speakers, hanging a TV on your at-home gym wall can provide that extra drive you need.
8. Add a chalkboard wall.
Chalkboard walls are becoming more and more popular for kids' playrooms and kitchen shopping lists, but why not use one in your home gym? This can be an easy way to keep track of reps, your running goals and even daily mantras.
9. Inspire yourself with the décor.
It can be easy to lose focus on your physical wellness when you have a list of 101 things to do. To help inspire yourself to stick to your goals, put up an inspirational quote on one of the walls in your at-home gym; Paint the walls of your home gym a bright, inviting color; And put up your old jerseys or medals as decoration. Try to create a space that's going to motivate you into giving your all when you're working out.
Create Space with Self Storage Plus
As you start to convert a space into your gym at home, you may find yourself noticing a lot of displaced items. Of course, that doesn't mean you have to get rid of your belongings. Self Storage Plus offers storage units in an array of sizes, so there's something to fit every budget and need. Located in the greater Washington, DC and Baltimore area, we have storage facilities near you.
Get started with your home gym today by reserving a self storage unit with Self Storage Plus!