Home > Blog > How to Move Pets to a New Home
How to Move Pets to a New Home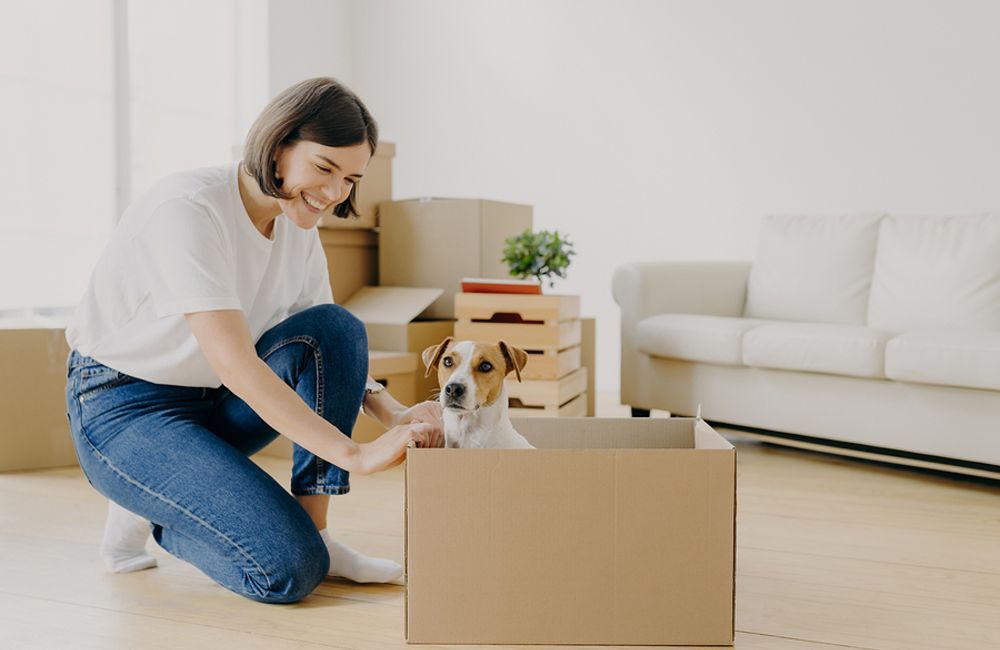 Moving can be stressful on everyone. There's packing, canceling services, setting up new services, coordinating with the moving company and trying to get ready for your new home. Now imagine things from your pet's point of view: nothing has changed until everything has been packed away in boxes, and one day some strangers show up and take away all the furniture. This lack of understanding can cause high levels of anxiety on your furry friend. To help keep them at ease, below are a few tips for moving with pets.
7 Tips for How to Move Pets
Prepare an "overnight kit." If you're moving across the country, having a bag or box readily available with food, litter, treats, toys and grooming tools is vital. Even if you're just moving across town, having an overnight kit can help make things easier by occupying your pet while you move everything into your new home.
Find a way to keep your pets away from the activity. The flurry of activity can cause undue stress on your pet. One of the best ways to help eliminate their stress is to keep them in a quiet area, away from the action. The ideal situation is to have them stay with a friend or place them in a kennel for the day, but if that's not possible, a quiet room or the garage will do. Just be sure to check on them frequently and try to keep to their feeding, walking and bathroom schedule. This goes for both moving out of the old place and moving into the new one.
Talk to your vet. This is particularly important if your move will take you out of the area. Your vet can provide you with any records and prescriptions you need to take with you as well as veterinarian recommendations near your new home.
Bring your pet in your vehicle. Never send your pets in the moving truck. This day will have already caused some stress for them, and putting them in a cold vehicle with no one they know during travel will cause even further stress that can affect their health. Instead, take them to your new home in your vehicle with you, whether that be in a carrier, in a bag (for your swimming friends) or just on a blanket in the backseat. You may also want to place a blanket over the carrier so they're not anxious about their changing surroundings.
Keep your pet in the car until you've arrived at your new home. Letting your pet out of the vehicle during the move can cause some dangers. They can easily wander off and get lost or run into traffic. Once you get them in the car, it's important to keep them there until you arrive at your new home. If you absolutely have to let them out to use the bathroom, be sure to keep them on a leash.
Set up your new home in a familiar way. One way to help your pet acclimate to their new space is to set up your furniture in a way that's similar to your previous home. It can help create a space of comfort and familiarity for them.
Update their information. Once you move to your new home, be sure to update the information on your pet's tag or microchip.
Make Moving with Pets Easier with Self Storage Plus
Another way to help your pet be stress-free on moving day is to rely on Self Storage Plus. We can help ease the process by providing a place for you to keep your belongings ahead of the move, making the moving process faster. The faster you can move, the faster your furry friend can settle into their new home. You may also find that your new home doesn't have the space you want, and a storage unit sized to your needs can solve that problem.
Find a storage unit near you in the Greater Washington DC and Baltimore area!