Home > Blog > How to Store a Mattress in 5 Easy Steps
How to Store a Mattress in 5 Easy Steps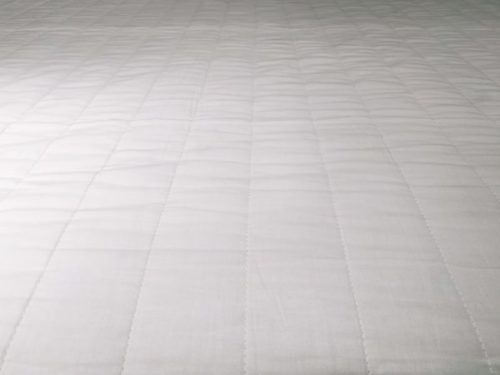 A mattress is an investment. When you purchased your mattress, you likely purchased it due to the comfort or support it offered. It is important to keep in mind that when moving and storing a mattress, if it isn't handled properly, it could become permanently damaged. A damaged mattress is not only uncomfortable to sleep on, but overtime could lead to injury due to the lack of support.
When moving and storing a mattress, it is important to follow these tips:
Clean off the mattress
Use a mattress storage cover
Always use a covered truck
Keep the mattress flat
Use a climate controlled storage unit
Are you interested in learning more about how to move and store a mattress to keep it in the best shape possible? Read below!
5 Mattress Storage Tips from the Experts
Clean off the mattress: One of the most important tips for storing a mattress is to clean it off first. Not cleaning off the mattress properly can either attract pests or result in mold or mildew forming. When cleaning off your mattress, first sprinkle baking soda on the mattress to absorb and odors. Let the baking soda sit overnight, then vacuum up the baking soda. Next use an upholstery cleaner to ensure it is thoroughly clean.
Use a mattress storage cover: In order to protect the mattress during storage, it is essential to use a mattress storage cover. A mattress storage cover will not only keep dust and dirt out, it will also allow the mattress to breathe. This is important, because if moisture gets trapped inside of the cover, it can result in mold or mildew forming.
Always use a covered truck: While it isn't uncommon to see people moving mattresses in trucks or on top of vans, this is not a good idea. Not only is this a bad idea because bad weather can ruin your mattress, it is also very unsafe to tie a mattress on top of the car. On top of the mattress potentially being a road hazard, tying the mattress on top of a car can bend the mattress and cause permanent damage.
Keep the mattress flat: When being moved or stored, the mattress should not be laying sideways for an extended period of time. A mattress was made to lay horizontal and standing it up or laying it on its side can result in the springs shifting.
Use a climate controlled storage unit: When storing a mattress, always use a climate controlled storage unit. A climate controlled storage unit will protect your mattress from being exposed to dangerous fluctuations in temperature. Overtime, any fluctuations in temperature can cause the frame of the mattress to rust.
Store Your Household Items with Self Storage Plus!
Are you looking for a self storage facility to store your mattress? Self Storage Plus has storage facilities all throughout Maryland, Northern Virginia and West Virginia. Our storage facilities offer popular storage unit sizes such as the 5×10, 10×10 and 10×20 storage unit. Reserve your household storage unit today!