Home > Blog > Do's and Don'ts: How to Store a Wedding Dress
Do's and Don'ts: How to Store a Wedding Dress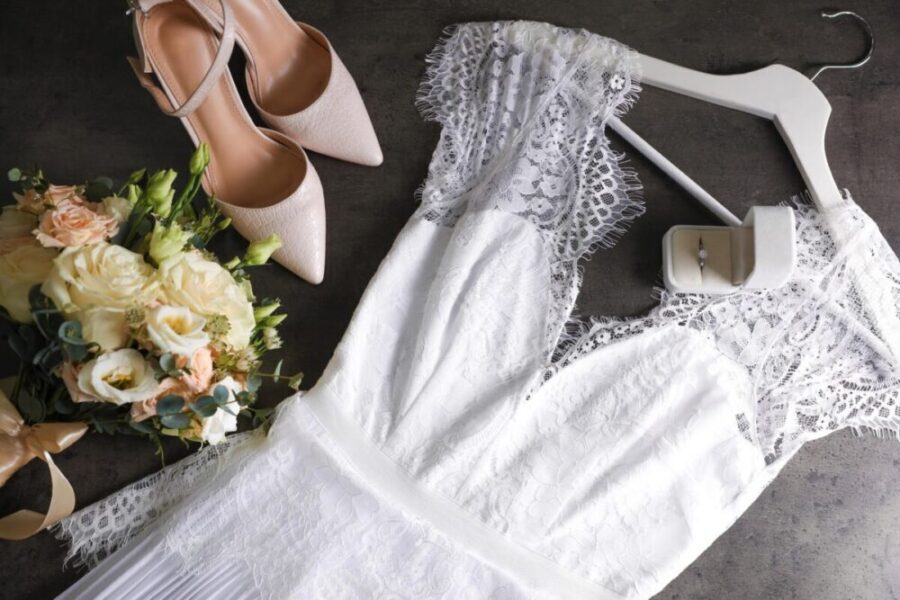 You may have just gotten married, and you're already wondering how to store your wedding dress so it'll be safe for years to come. You may be hoping to pass it on to your daughter someday. But that may be many years away. And you have only one wedding dress — it can be intimidating to know how to store a wedding dress for decades to come because you've probably never done it before.
So what are the smartest preservation processes and long-term storage options to keep your dress in the best condition until it's ready to make its future debut? Here are some do's and don'ts for cleaning and storing your wedding dress, along with some long-term storage tips, to preserve the life of your dress.
First, the Do's of How to Store a Wedding Dress
Do
dry clean
your wedding dress.
Nearly every professional cleaner will tell you that dry cleaning your dress is mandatory. They're not just trying to drum up business by saying that, however. Even though you wear your wedding dress once, that one day can be tough on your dress' delicate fabric, stitching, sequins, beads or other detailed work. You may sweat in it (wedding-day jitters happen, and then there's all the dancing!), smear makeup or mascara on it, spill food or wine on it, or get splashed with champagne during the toasts.
As soon as you can after your wedding, take your dress to a cleaner who's experienced in cleaning wedding gowns. They're trained to spot stains, spots and marks you may not even see. Even white wine leaves no initial trace, but over the months the sugars in the wine crystallize, leaving brown stains dry cleaning can't remove.
Do your research
.
Choosing a professional dress dry cleaner is something you or your maid of honor can do well before your wedding. Advance planning keeps you from having to scramble after your honeymoon and reduces the risk of any stains setting into your dress. But call around to find the right vendor for your dress. Here are some good questions to ask:
What kind of solvents do you use? Ask them if they will use virgin solvents on your dress. A gown cleaned in recycled solvent will make your dress smell as if it's been

dry-cleaned,

which definitely isn't what you want.

What types of materials do you clean? Some solvents may work on silk, for example, but will damage sequins. Tell your

dry cleaner

what materials your dress is made of to make sure they can safely clean them with no damage.

Will they guarantee they won't do any damage to your dress during the cleaning process — and if they do, what are their refund policies? Look for a

dry cleaner

who will reimburse you for the entire cost of the dress itself, not just the cost of the

dry cleaning

.

Can they clean accessories

?

If you have a bridal veil, you may want that cleaned as well.
Do have your wedding dress preserved.
That's different from having your dress dry cleaned. If you're asking yourself, should I preserve my wedding dress, then consider this: Every wedding dress is highly unique, but treating it as if it's like any other dress in your closet could cause complete ruin. Why? Well, wedding dresses aren't made for everyday wear and tear. The preservation process is specially designed for the unique fabrics of your dress.
Do
store your dress
in a cool, dry place.
Storing your dress properly is crucial to the life of your dress. How can improperly preserved or stored wedding dresses be ruined? 
Exposure to sunlight can cause yellowing; exposure to moisture can cause mildew or mold, which irrevocably stains fabric. Extreme temperatures and humidity are hard on the dress fabric, so don't store it in an attic or basement. Instead, store it under your bed or on a closet shelf.

Fragile materials left hanging on hangers can stretch, because the weight of the gown wasn't meant to hang over time.

Folds from creasing can cause permanent fabric damage.
Consider storing your dress in climate-controlled storage where the temperatures and humidity are closely controlled. These types of storage spaces are also ideal for things like artwork, electronics, leather furniture and books, and are usually available in a variety of storage sizes depending on your needs.
Do choose an
acid-free wedding box
and
acid-free tissue paper
.
These are ideal materials to safely preserve the dress for years to come. Acid-free tissue paper can last up to 1,000 years (yes, 1,000!) without yellowing or breaking down. Acid-free wedding boxes prevent yellowing, decay and damage to the fabric that's commonly caused by acidic materials.
Now for the Don'ts
Don't store your dress, veil, garter or other accessories touching each other.
Storing them in the same box is acceptable, but nothing should touch each other. Plastic, wire and trim on the headpiece or veil could damage the gown. It's best to store shoes and crinolines separately from the dress and veil to prevent damage.
Don't choose a wedding dress box made of plastic.
The box should allow the dress to breathe and protect it from dust and dirt. A sturdy acid-free wedding box may cost more than you expect, but when compared to buying a cheaper one that won't protect your dress for a lifetime, is it really a bargain?
Don't be afraid to ask questions.
Your wedding dress is emblematic of one of the best days of your life. Don't just assume your dress will be fine, and don't leave the safety of your dress up to guesswork. Always consult with the professionals, and ask them questions until you're satisfied they'll take care of your dress as well as you would.
Preserve Your Wedding Memories and More With Self Storage Plus
To find the storage professionals, find the Self Storage Plus location nearest you. Because when you have confidence knowing your beloved wedding dress is stored somewhere truly safe, you'll quickly realize that for your possessions, Self Storage Plus is a match made in heaven!