Home > Blog > 5 Kitchen Organization Hacks for a More Organized Home
5 Kitchen Organization Hacks for a More Organized Home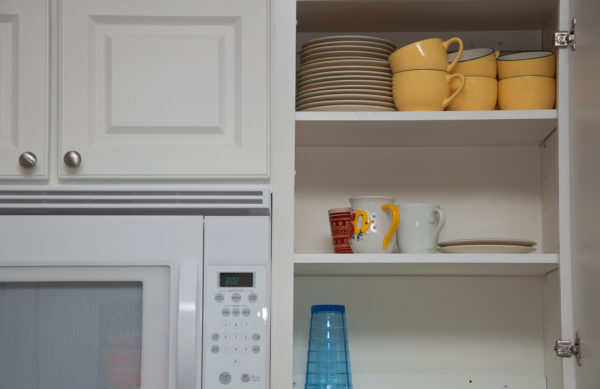 It is often said that the heart of the home is the kitchen. This room is where families gather for dinners, friends are hosted for the holidays and afternoon snacks. Unfortunately, due to its popularity, the kitchen also gets disheveled and disorganized much quicker than most rooms. Are you looking for tips for getting your kitchen organized once and for all? Try out these 5 tips below!
Must-Follow Kitchen Organization Tips
Empty everything out of your storage areas: First, walk through your kitchen and empty everything out of your cupboards, drawers and pantry. Place all of the items in a location in front of you where you can easily see what you're working with.
Dispose of damaged or incomplete items: It's amazing how many items we hold onto because we do not want to replace them or feel bad getting rid of. Do you have Tupperware containers in your cupboard that have missing lids? Or has your electric can opener only been working about half of the time you need it? Throw out, recycle or donate any damaged or incomplete items. This will help to clear up a great deal of space in your kitchen.
Group duplicate items together: Another thing that can really clutter up the kitchen is duplicate items. If you have 2 crockpots, numerous cookie trays and 2 sets of silverware, group each category of items together. Go through each group of duplicate items and determine if you're able to part with any of the items. This can help to easily free up space in the kitchen cupboards.
Invest in your pain points: One common problem many people face in the kitchen is not having enough cupboard storage space. If you are also a victim to this problem, consider purchasing a rack to hang on the wall which will store wine glasses or coffee mugs.
Get the whole family involved: While you can spend a great deal of time cleaning and organizing your kitchen, the best way to keep it clean for months to come is to involve your family. Once the kitchen has been organized, walk your family members through where each item will go. This will help your family find the home for each item easier, which in turn will keep your kitchen more organized.
Declutter Your Kitchen with a Household Storage Unit Rental!
We strive to offer you helpful decluttering and storage tips for a more organized home. As your organizing your kitchen, you may come to find that many of the items that are duplicate or used less often are really only needed when you are hosting a party or during the holiday season. If this is the case for you, consider clearing the clutter in your kitchen by storing items that are needed less often in a climate controlled storage unit.
Self Storage Plus has storage facilities in the greater Washington DC and Baltimore areas with both traditional storage units and climate controlled storage units for rent. Reserve a 5×5, 5×10 or 10×10 storage unit with Self Storage Plus today!