Home > Blog > Nursery Organization Hacks Every Parent Needs
Nursery Organization Hacks Every Parent Needs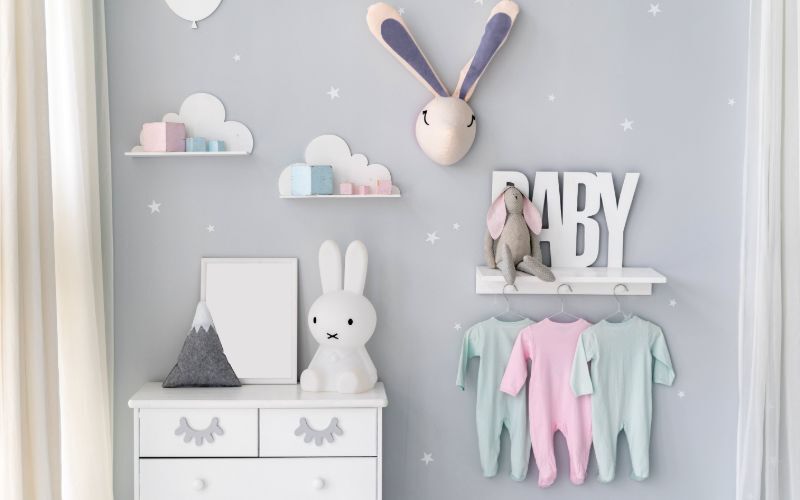 It's easy to accumulate a lot of stuff when you start to grow your family. You can quickly notice that your nursery is getting out of hand from all the holiday gifts and general necessities. Thankfully, while you may wind up with far more baby items than your child could possibly use, you don't have to relinquish control to the chaos. Just follow the tips below for general organization, nursery toy storage and more.
7 Nursery Storage Ideas for Better Organization
Get your tidy home back with these storage and organization hacks.
Get rid of things you don't need. You may be tempted to keep something your great aunt sent you, but don't feel obligated to keep it if you have no use for it. If you won't find value in the item, if you didn't ask for it or if you have a duplicate, donate it so someone else can use it.
Use bins and label them. While some belongings can be hung in the closet, you're likely going to turn to bins as your new storage solution. If you opt for something other than see-through totes, make sure you can clearly read the label. That way, you'll never have to spend time searching for what you need. When the items in a specific bin are too small or out of season, move it into storage or somewhere that isn't in the way.
If you have excess of something, keep the extra stock elsewhere. If you have an overstock of diapers, wipes or white onesies, you don't need to keep everything in the nursery. These items will just take up space and create clutter. Keep one pack of diapers at a time in the changing table drawer and the rest in a closet or the basement.
Set up stations for each activity. Keep things that go with each activity within arm's reach of each other. For example, keep all the diaper changing items such as clean diapers, wipes, diaper cream, laundry hamper and the trash in the same space. If you plan to pump, keep things like your pumps, towels, a book and even bottled drinks near a chair. You may want to use the same chair for feeding, so keep blankets and any other necessities there.
Use large baskets for toys. Toys are one of the biggest disorderly culprits. If you find yourself tripping over stuffed animals and learning games, consider adding a couple large baskets to the nursery. This way, you'll be able to quickly drop items into their home rather than leave them lying about until you have time to find their proper home.
Keep some valuables outside of the nursery. It's easy to assume that baby items equal nursery, but some belongings make more sense to keep elsewhere. Items such as bottles would make more sense to keep in the kitchen, since that's where you'll be preparing them. Keeping them in the nursery with the rest of the baby items could create more clutter rather than a storage solution. Think about what rooms you'll be using items in and find storage for them in each space.
Keep an empty bin in the closet for outgrown clothes. Babies grow quickly, and your child will be out of that cute onesie and booties before you know it. When your child outgrows something, you can drop it into the empty bin to wash and store away or donate once it's full.
Keep Every Room of Your Home Clutter-Free with Self Storage Plus
If you still find yourself with items piling up — either in the nursery or elsewhere in your home — Self Storage Plus can lend a hand. Our size guide can help you find the right size storage unit to keep all of your items, and our storage specials help make your experience affordable. You can feel good about storing your belongings at any of our facilities in the Greater Washington, DC, and Baltimore, MD areas, knowing that our properties are guarded by 24-hour video surveillance, resident managers, computerized access and other safety precautions.
Find a self storage location near you today and keep the clutter out of your home.