Home > Blog > Playroom Storage and Organization
Playroom Storage and Organization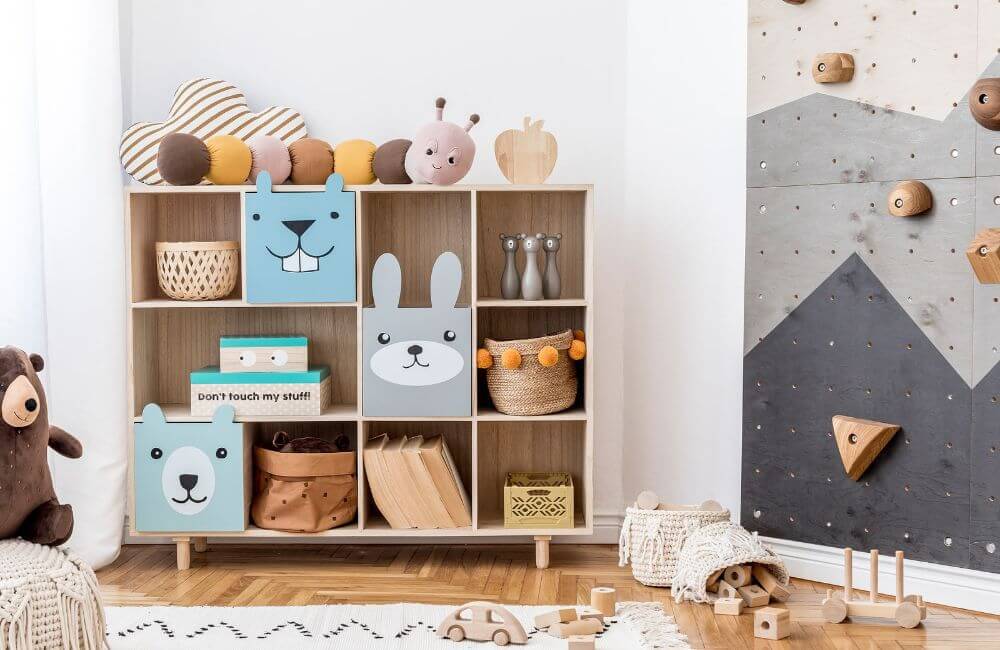 A playroom should be full of imagination, not chaotic mess. It's fine for disorder when the kids are playing and creating, but when they're done for the day, everything should be back in its place. If you have small children, the likelihood of them cleaning everything up by themselves is small. That means you need an organization system in place so you can all lend a hand during clean-up time. Follow our list of tips below for playroom storage ideas and organization tips.
Playroom Organization Tips
Clean old things out — without the kids.
Things that are old or broken need to go, whether they go in the trash or in the donation box. While you may want the kids to participate in the process, they can create more problems than solutions. Seeing toys (even ones they haven't touched in months) can lead to crying eyes and begging to keep everything. And that means that nothing will get done. If you do the clean-out on your own, you'll find that the kids will never miss the items you get rid of.
Get the kids in the mix.
Once you have the old and broken things pulled out, it's time for the kids to get involved. If they join in the sorting and organizing, they'll have a better idea of where everything goes when they have to clean up.
Use clear storage bins.
Toy boxes are fun and can be unique, but they're not the most helpful storage option. Using clear storage bins instead will allow you and your children to see everything in each container. That  means fewer toys strewn about the room while they're looking for what they want.
Use labels.
To help your child put things back quickly, label each storage container. Clearly marked labels will tell them which box has stuffed animals, toy cars, building blocks or coloring supplies. If your children aren't old enough to read yet, label the boxes with pictures they can match items with.
Utilize verticle space.
If there's not enough space on the ground, you can always go up. Shelving units are a great way to organize the clearly-labeled storage bins. Small hands likely won't be able to reach higher shelves, so keep items they don't use as often up there.
Color-coordinate storage.
If you have multiple children, you'll likely want to have separate playroom storage for each of them. A quick way to do that is through color. Use bins with different colored lids and labels for each child and a separate color for shared items.
Self Storage Plus is Your Solution for Playroom Storage
As you go through the cleaning process, you may find items that you want to keep as memories. To create the space in your home you need, you can rely on a storage unit with Self Storage Plus. Not only is it ideal for the toys attached to memories, but it's also the perfect space for the other items in your home that don't get everyday use. Our climate controlled storage units keep fluctuating temperatures out so your sensitive items such as books and electronics stay in good condition. You can also feel good about the added layers of security and property features our locations offer such as 24-hour video recording, resident managers and computerized access.
Find a self storage unit near you in the Greater Washington, DC and Baltimore area today!