Home > Blog > How to Store a Rug in 7 Steps
How to Store a Rug in 7 Steps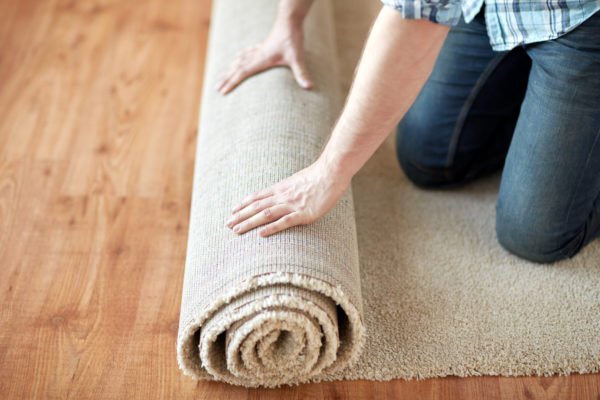 If you are looking to hold onto your rug long-term but do not want it displayed in your home right now, it is essential that it is stored correctly. Because rugs are often used to walk on or wipe your feet on, many people do not realize just how fragile they are. But we're here to help! In order to keep your rugs in the top condition, try out these rug storage tips!
Must-Follow Rug Storage Steps
Check manufacturer instructions for cleaning: The worst mistake you can make is storing a rug that isn't cleaned properly. Over time, any moisture, dirt, pet hair or other debris can actually damage the rug and cause it to form mold or mildew. When cleaning the rug, always check the manufacturer approved instructions for cleaning tips. Different materials and type of rugs will require different levels and kinds of care.
Allow the rug to dry: Next, give the rug time to dry. When drying the rug, do not let it sit for an extended period of time in a sunny location, as this can cause the rug to fade.
Roll the rug with the grain: Move your hands along the rug to determine which way the grain runs. In order to minimize the stress on the rug, always roll it with the grain. If you are unsure how to roll a rug, consider looking for further instructions online.
Invest in a rug storage bag: You can easily find rug storage bags online or at any store that sells rugs. Using a rug storage bag is a must, as this can protect your rug from pests, vermin, moisture and dirt.
Store the rug vertically: In order to prevent flat spots from forming, avoid storing the rug horizontally. Always stand a rug up vertically in storage.
Keep the rug off of the ground: Over time, it is possible for moisture to seep up from concrete floors. In order to prevent the moisture from getting to your rug, never store it near the ground. Keep it elevated on top of a shelf, dresser or desk.
Use a climate controlled storage unit: Many people do not realize that storing a sensitive item like a rug in a basement, garage or attic is not a good idea. These locations are prone to fluctuations in temperature, which can damage the rug. A climate controlled storage unit is a smart solution for storing a rug because it's free from dangerous fluctuations in temperature.
Self Storage Plus Has Climate Controlled Storage Facilities!
Self Storage Plus has climate controlled storage facilities in the greater Washington DC and Baltimore areas, ideal for storing a rug. Our storage facilities offer a wide range of storage unit sizes, including the 5×5, 5×10 and 10×10 storage units. We offer many different storage unit specials, making renting a storage unit for household items a smart and affordable solution.
Reserve a storage unit today!