Home > Blog > Spring Cleaning Tips and Tricks
Spring Cleaning Tips and Tricks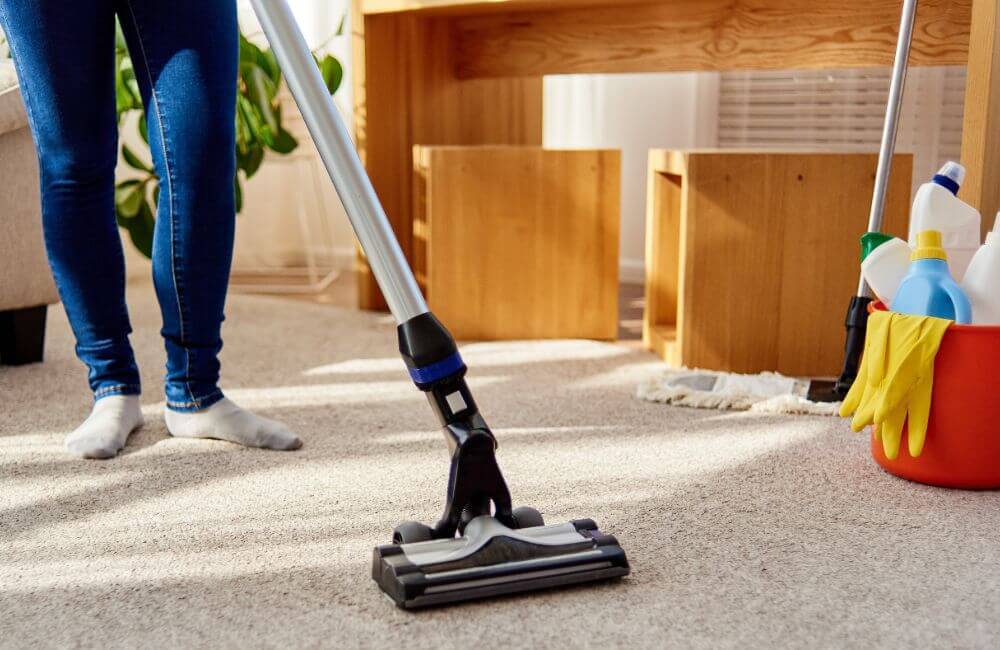 Being indoors during the winter weather comes with a lot of pent-up energy. What better way to expend it than spring cleaning? A clean house is a happy house. If your home got a little out of hand during the winter, tackling the whole thing can be overwhelming. Follow our spring cleaning checklist for a fresh home this season.
9 Spring Cleaning Tips
1. Build a schedule.
If you plot out a schedule for cleaning each room and when you have available time, you're more likely to tackle everything. What areas need the most attention? Start there while you're still motivated and work your way down.
2. Protect yourself from allergies.
Cleaning and dusting will disturb allergy inducers that have sat undisturbed for months. If you suffer from allergies, arm yourself with rubber gloves, masks, bandanas and cleaners that won't further irritate reactions.
3. Get rid of the clutter.
Aside from making things harder to find, too much clutter can affect your mental health. Make tasks such as organizing closets and clearing out the junk drawer a priority.
4. Work from the ceiling, down.
Just like anything effected by gravity, dust and debris falls as you clean. If you work from the bottom up, you'll just have to clean the bottom again. Make less work for yourself — start at the ceiling and work your way down. Use vacuum extensions to reach the corners and ceiling fans first.
Also, dust everything before you vacuum. That way the excess dust will fall and get picked up by the vacuum later. And if you can, use a HEPA vacuum. This type of vacuum will help trap allergens and pet dander, which is even more beneficial to allergy sufferers.
5. Try non-toxic options for a "green clean."
There are many popular green initiatives right now, and there are a few you can take advantage of during spring cleaning! If you haven't tried a steam cleaner, now is the perfect time to do so. Steam cleaners use hot water vapor instead of chemicals, and they can clean a variety of surfaces including fabric couches, microwaves, hard floors and appliances.
You can also use a mixture of distilled vinegar, baking soda and water in place of many cleaners. They're inexpensive, are non-toxic and have been used as a cleaning solution for ages.
6. Tackle the kitchen in a few steps.
Cleaning your kitchen may feel like an overwhelming task, but hitting the trouble areas first will take care of it in no time.
Throw away any expired items in your cupboard and fridge.
Wipe down cabinets and shelves, including the ones in the refrigerator.
Clean stainless steel surfaces with a steam cleaner or specialized cleaners.
Reorganize cupboards for ease of access, keeping the most used items in the front.
7. Don't forget about the bathroom.
The bathroom is most Americans' least favorite room to clean. If you only want to attack some of the trouble areas, there a few things you may not think about. Change your shower curtain lining if there's mildew you can't clean off. Your cosmetics also tend to fall through the cracks, so check for any expired items. If you have an old exhaust fan, consider replacing that as well so mold and mildew don't become future problems.
8. Change your HVAC air filter.
You should change your air filter every 3-6 months, but many of us often forget. Air filters with higher MERV (Minimum Efficiency Reporting Value) ratings help fight allergies by catching smaller air particles — something spring allergy sufferers rely on. If you can't remember the last time you changed your filter, do it during spring cleaning.
9. Freshen up old items.
While you're cleaning, use this opportunity to remove outdated, overused or old items. Switch out warm, winter linens for lighter ones. Resign old towels to the rag pile and replace them with fresh towels. Swap out your winter clothes for your spring wardrobe.
Store Winter Items with Self Storage Plus
If you don't have space to store your winter belongings until next season, Self Storage Plus can help! If you're worried about the environment your items will be in, we offer climate-controlled options to add to your peace of mind. With locations in Maryland, Virginia, West Virginia and the Baltimore-Washington metro area, there is sure to be a solution for your needs. Find a Self Storage Plus location near you today!