Home > Blog > The Top Tips for Moving and Storing a Pool Table
The Top Tips for Moving and Storing a Pool Table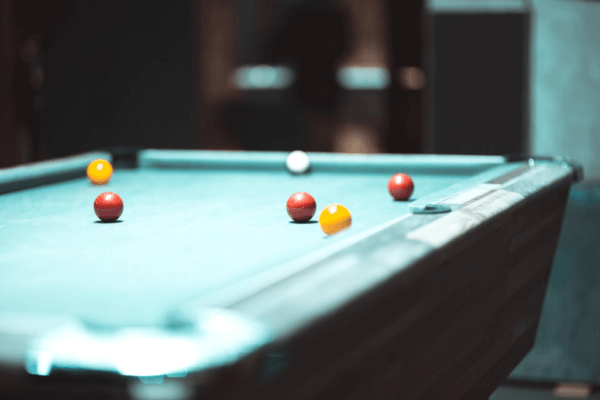 A pool table is a great addition to a game room, man cave or even a large living room. But, if you are moving, renovating or redecorating, you may have to move and store your pool table. Due to its size and weight, moving and storing a pool table is no easy task. And unfortunately, a small slip can be very costly.
Before you can move and store a pool table, it is important to have the right tools ready to go. Set a wrench, screwdriver, staple remover and drill aside to take the table apart. Additionally, you will need boxes and small bags to put small pieces inside of. Are you ready to learn how to move and store a pool table? Try out these tips below!
4 Tips for Moving a Pool Table
1. Refer to the Owner's Manual
While we can provide helpful storage tips that work for most pool tables, it is also a good idea to check your owner's manual. Different brands or models of pool tables may need different care, and it is essential. This may also tell you how to take apart your pool table as well.
2. Take Out the Ball Pockets
First, remove the ball pockets from the pool table. The ball pockets will either be screwed in or stapled, so use a screwdriver or staple remover to free the pockets.
3. Remove the Rails and Felt
Next, use a wrench to remove the bolts underneath the table holding the rails in place. After the bolts have been removed, pull apart the rail sections and set them carefully on the floor. Once the rails have been removed, detach the felt from the slates. The felt is likely attached using either glue or staples. If you have had the pool table for a while and the felt is wearing out, consider just tearing it off and adding new felt once reassembled. Otherwise, remove the felt and gently fold it up.
4. Take Apart the Slate
Most pool tables are bolted to the frame of the table. The pool table slates will either be broken into two to three sections. Each individual slate can weigh between 350 and 400 pounds, so always ask for help from friends or family members when moving slates.
Lastly, turn the pool table frame over and remove the table legs.
Our storage facilities offer many different sizes, from small storage units to much larger units that can fit the contents of multiple rooms.
How to Store a Pool Table in 3 Easy Steps
1. Keep the Table Elevated
Over time, moisture can seep up from the floor of your storage unit and potentially damage items resting against it. To prevent this from happening, elevate your pool table by storing it on pallet boards.
2. Wrap Each Piece for Storage
Wrap each individual piece of the pool table for storage. To protect the pieces from damage, always keep them wrapped the entire time they're in storage.
3. Use a Climate Controlled Storage Unit
When storing a temperature sensitive item such as a pool table, it is important to utilize a climate controlled storage unit. Storing a pool table in an area that is prone to temperature fluctuations can eventually cause the wood to crack or mold or mildew to form on the felt. A climate controlled storage unit will maintain a steady range of temperature, ideal for storing a sensitive item like a pool table.
Self Storage Plus Has Climate Controlled Storage Units Near You!
Self Storage Plus is the right choice for your pool storage solution. Our storage facilities in the greater Washington, DC and Baltimore areas with climate controlled storage units available for rent. Whether you need a small storage solution, or a larger storage solution that can fit the contents of many rooms, we have a storage unit for you. Reserve your storage unit today!