Home > Blog > How to Store Books: 6 Tips from the Experts
How to Store Books: 6 Tips from the Experts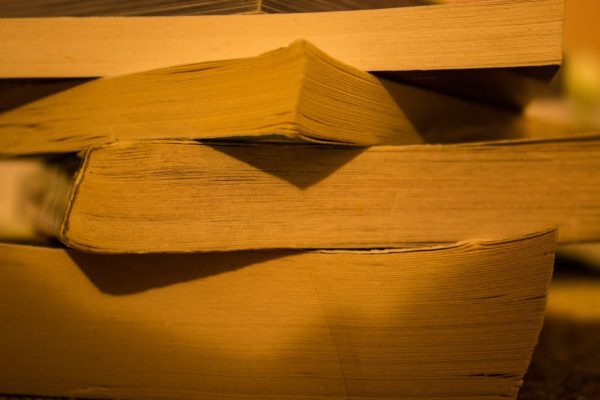 For someone that loves to read, there might have an extensive personal library at home. As your home library grows, you may be looking to safely store some of your books away for safe keeping and possibly other household items. But, books are very sensitive, and if they are not stored properly their condition may suffer. Are you wondering how to store your books in a storage unit? Read this blog for important tips on how to preserve books in long term storage.
Our storage facilities offer many different sizes, from small storage units to much larger units that can fit the contents of multiple rooms.
6 Tips for Storing Your Books Long-Term Storage
1. Inspect Books for Food or Liquid Damage
It isn't uncommon to eat or drink while reading. Unfortunately, though, any crumbs or food residue left on a book can damage it. If you put a book into storage that has been exposed to food or water, mold or mildew may form and spread all over your book collection. To keep your books from getting damaged, ensure they are clean before storage.
2. Carefully Wrap Each Book
Before putting your books or any household items into long term storage, carefully wrap them in paper towels or a similar material. This will help to protect your collection from any damage caused by dirt or dust.
3. Use a Storage Container
We recommend storing books in a plastic storage bin or container. This will help to further protect your books from moisture, dust, bugs and vermin.
4. Store Your Books Vertically
When placing your books into the storage container, store them vertical with the paper edges facing upward. This method helps to protect the shape of the books by allowing the books to support each other. Be cautious to never jam too many books into one box, as it can cause the spines of the books to warp.
5. Utilize a Climate Controlled Storage Unit for Long Term Storage
One of the best ways to preserve the quality of your books is to store them in a climate controlled storage unit. A climate controlled storage unit will maintain a steady range of temperature that is ideal for storing more sensitive items.
6. Check on Your Books
The worst thing you can do when storing sensitive items is to put them into long term storage and forget about them. Make a reminder in your phone or planner to check on your book storage containers. If there's damage, you'll want to address it immediately to protect your collection.
Store Your Books in a Climate Controlled Storage Unit from Self Storage Plus!
Self Storage Plus has storage facilities all throughout the greater Washington, DC and Baltimore, MD areas. Whether you need a smaller storage unit to store books, or a large storage unit for full household storage, we have a storage unit size for you. Reserve a storage unit with Self Storage Plus today! We hope this help you to answering your question of how to store books, if not please give us a call and we will be happy to help you to answer any more questions you have!