Home > Blog > 6 TV Storage Tips from the Experts
6 TV Storage Tips from the Experts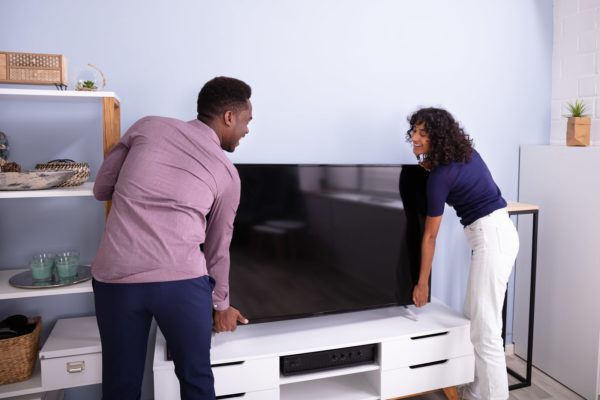 During ball games, award shows and the premier of your favorite show, your TV is your go-to spot. But as the years have gone on, you've decided it's time to upgrade your TV. So, what do you do with your old TV once the new one arrives? Well, if it still has life left in it, consider storing it in a storage unit for your kids to use when they move out, for after the basement gets renovated to a workout space, or to donate at the next electronics drive.
Are you wondering how to store your TV? In order to keep your TV in working condition for future use, it is essential that it's stored correctly. Learn how to store a TV below.
6 Tips for Storing a TV in a Storage Unit
1. Locate the Original Box
In order to best protect your TV, it's a good idea to use the original box the TV came in. The original box will have padding that will help to protect your electronic from damage. If you no longer have the box, contact the manufacturer to see if they have boxes for purchase.
2. Document the Connection
If you won't be using the TV for a period of time, it's helpful to document how the electronic is connected. Before disconnecting any wires, take a picture of the back of the TV. This will help you to have a much easier time setting it up in the future.
3. Make Sure the TV and Cables Are Clean
Storing the TV with dust, dirt and hair on it can cause corrosion. To clean the TV, use a can of compressed air to blow any dust or debris out of the small cracks. Next, wipe the TV down with a damp cloth. Use the cloth to wipe the cables clean of any dust and debris before putting them into a storage unit.
4. Load the TV Into the Box
Once the TV has been cleaned, place it back into the box. If the TV box still has packing materials inside, use these materials to securely cushion the TV. If you no longer have the packing materials, wrap the screen of the TV with plastic to cushion it.
5. Keep the TV Upright While Being Transported and Moved
To prevent damage to the TV screen, always keep it upright while being transported or stored. Laying the TV sideways for an extended period of time can damage the TV screen and internal parts of the TV.
6. Use a Climate Controlled Storage Unit
To protect your TV from damaging fluctuations in temperature, use a climate controlled storage unit rental. A climate controlled storage unit will maintain a steady range of temperature ideal for storing a TV.
Reserve Your Storage Unit with Self Storage Plus
Are you looking for a location to store your TV? Self Storage Plus has storage facilities throughout the greater Washington, DC, Baltimore, MD areas, and beyond. Our storage facilities offer convenient storage features, including vehicle storage and storage units with drive-up access. Find a location nearest you and rent your storage unit today!