Home > Blog > How to Winterize a Motorcycle in 6 Easy Steps
How to Winterize a Motorcycle in 6 Easy Steps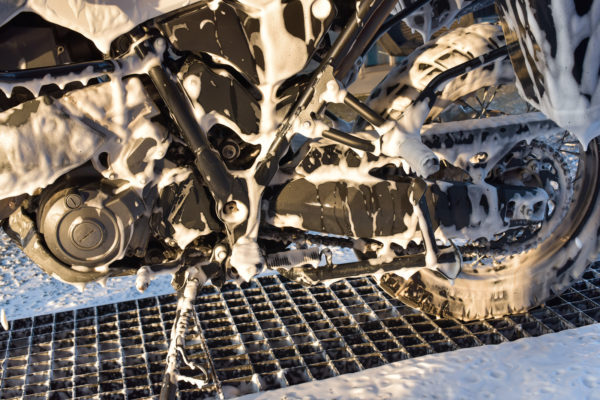 While a motorcycle is great for zipping around on the roads during the spring and summer, it has to be winterized and stored once the weather gets cooler. A motorcycle that isn't properly winterized or stored can suffer from corrosion or not run as well come spring. Are you looking for the top motorcycle storage tips? Try out these tips below!
Storing a Motorcycle for Winter: 6 Tips to Follow
Refer to the manufacturer instructions-
In order to keep your motorcycle in the best condition for the off months, it is essential that it is properly prepared for storage. Before performing any of the steps listed below, refer to your manufacturer instructions to make sure there aren't more specific instructions for winterizing and storing your motorcycle.
Wash and dry your motorcycle-
The first step to winterizing a motorcycle is to wash and completely dry it. Generally, the less you touch your motorcycle the better. When you do wash your motorcycle, use a sponge on the frame and a brush on the wheels. There are many different motorcycle cleaners to choose from, and the most important part is to choose a cleaner that is meant for motorcycles. Once your bike is completely clean, dry it with a soft cloth.
Empty the gas tank-
Leaving extra untreated gas in your motorcycle all winter long can damage your bike. Instead, if your motorcycle is relatively low on fuel, consider taking it on one last joy ride before the end of the season. If you still have a fair amount of gas left in the tank, consider siphoning it out to go inside of your snow blower or leaf blower.
Change the oil-
Leaving old oil to sit inside of your motorcycle all winter long is not only not good for the bike, it also is going to be a pain to change come next spring. Before putting your motorcycle into storage, change the oil.
Attach the battery to a trickle charger-
A motorcycle battery left alone all winter long will not be able to retain a charge by the time spring comes around. To keep the battery in the best condition, attach it to a trickle charger during the winter.
Keep the motorcycle covered-
To protect the longevity of your investment, always keep your motorcycle covered while in storage. The best motorcycle cover for your bike will cover it completely and fit snuggly.
Store Your Motorcycle with Self Storage Plus!
While storing your motorcycle in the garage is perfectly acceptable, it isn't the most convenient option. Not only do you have to move items around inside of your garage to fit it, but you also have to keep items from bumping into it all winter long. Instead, consider putting your motorcycle into a storage unit for the winter.
At Self Storage Plus, vehicles can be stored inside of drive up storage units as long as they can fit inside of the standard 8'x8' roll up door. For additional convenience, some of our storage locations even offer motorcycle storage units with trickle chargers. Self Storage Plus has storage facilities in the greater Washington DC and Baltimore areas. Reserve a motorcycle storage unit today!