Home > Blog > Backyard Storage Solutions and Yard Projects for Organization
Backyard Storage Solutions and Yard Projects for Organization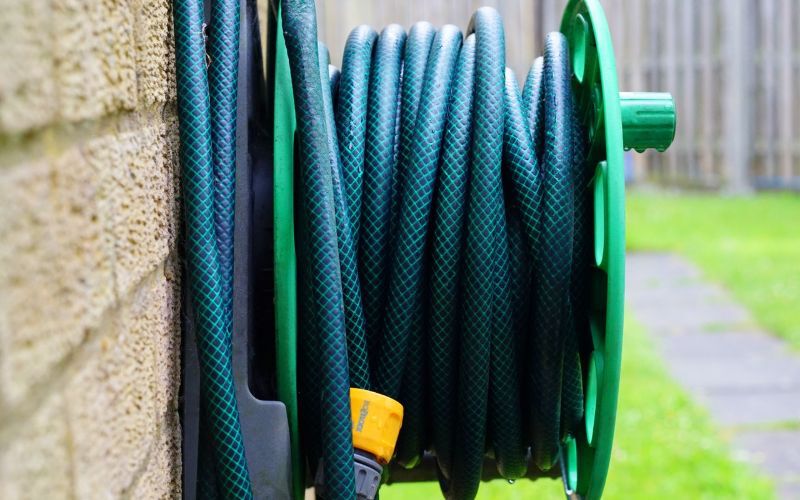 Your backyard is an extension of your home. Just like every room in your house, your yard can become disorganized without a little maintenance. Since your lawn, patio or balcony do not come with built-in shelving or closets, backyard storage solutions aren't as straightforward as indoor possibilities. If you want your yard to stay orderly, you'll need to get a little creative. Read on for yard projects and backyard ideas for storage.
9 Backyard Ideas and Yard Projects for Organization
Spruce up your storage shed.
A shed is an excellent way to store all the items that you use in your yard like hoses, rakes and even pool toys. Unfortunately, most storage sheds don't come with an organization system inside. If you'd like to organize your shed better, try adding portable shelving units, peg board or any of these ideas from Better Homes & Gardens.
Use a garden hose holder near outside spigots.
A standing hose holder is useful for several different reasons:
It makes the hose readily accessible.
It keeps the tool from getting tangled up.
It keeps the hose off the ground, which means it won't kill your grass.
Use large plant pots for more than just plants.
If using a garden hose holder still seems unsightly, a large plant pot can do the trick. If you're crafty, consider building your own that will still display colorful plants while hiding the hose.
Organize with an outdoor cabinet.
If completing a DIY yard project isn't your idea of a fun weekend, you can always opt for storage ideas like outdoor cabinets. These offer plenty of storage space for things like party supplies, pool toys and blankets.
Turn your outdoor seating into storage bins.
Outdoor storage benches offer both form and function for your backyard. They save space while holding up to harsh weather and giving you a place to sit or set plates and glasses. If you want to try your hand at building one yourself, check out these DIY instructions for building and outdoor storage box.
Use weatherproof baskets for kids' toys.
Stackable, plastic bins provide a weather-safe storage option for your children's outdoor toys. If you're concerned about the kids picking up after themselves, opt for bins with an open front to make it easier for tiny hands to put things away.
Create a kiddie parking garage.
Kid-sized vehicles can be an eyesore when left strewn about the yard. A "parking garage" against the house is an easy solution. (Bonus points for placing it near an outside electrical outlet for overnight battery charging.)
Keep things out of sight with screen enclosures.
Privacy screens can help hide a multitude of backyard chaos like trash bins, air conditioners or weekend projects. If you don't want to spend money on purchasing a new set, you can always build them out of reclaimed materials.
Utilize your fence.
If you need a place to hang things, your fence provides the perfect surface. It's already in place, so all you need are a few hooks placed at a height everyone can reach.
Make Self Storage Plus Your Backyard Storage Solution
You may find that some things still don't fit into your yard-project storage plans. If that happens to you, use Self Storage Plus. We'll help you store your bicycles, seasonal toys and more. Our climate controlled storage units are perfect for keeping summer outdoor items out of the frigid Washington DC and Baltimore area winter temperatures. If you're not sure how much space you'll need for storage, our size guide will help get you started.