Home > Blog > What to Consider before Storing Your Belongings: Attic Storage Tips
What to Consider before Storing Your Belongings: Attic Storage Tips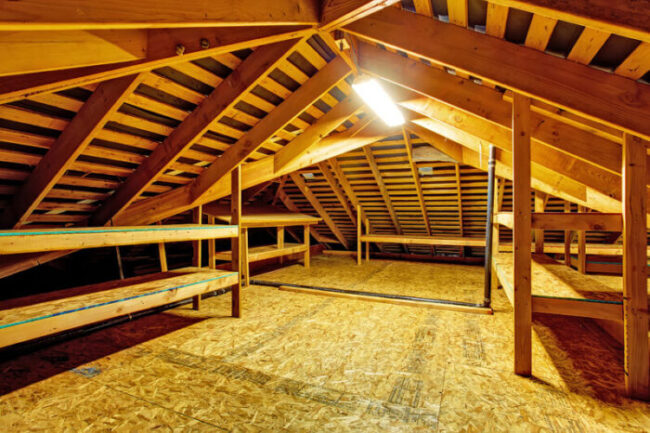 It's inevitable that you'll accumulate a large quantity of items throughout the years. And the bigger your home, the more belongings you tend to have. If you live in a home with plenty of attic space, it can seem like the perfect place to keep all of your additional or seasonal items. However, because it's an unconditioned space, there are a few different factors to consider.
Is It Safe to Store Your Belongings in the Attic?
Before you move all your unused items to the attic, ask yourself the following questions:
Are your belongings susceptible to heat? Sensitive items like photographs and collectibles can be damaged from exposure to heat. Older plastic items and paint or varnish do poorly when exposed to heat, as well. If your attic space isn't conditioned, keep heat-sensitive items elsewhere.
Are your belongings susceptible to the cold? The greater Washington, DC and Baltimore, MD areas frequently dip below freezing every winter, and that means a very cold attic. Because our summers are hot and humid, this results in hot-and-cold cycles that can cause products to discolor, delaminate, harden or become brittle. Items that could be vulnerable to this hot-and-cold cycle should be stored in a conditioned space.
Is your attic sealed? Even the smallest amount of water can rot items made from wood or leather and develop mold and mildew. Unless you're sure that your attic is completely waterproof, don't store items like leather-upholstered or wooden furniture in the space.
Are the belongings vulnerable to critters? Bugs, mice and even birds have the tendency to find their way into attics — usually through small openings in the roof or chimney. Once they find their way in, they'll shred or chew up any items they can reach. If you're fearful of an item being destroyed by critters, avoid storing it in the attic.
Do you have enough sturdy bins? Cardboard boxes are great for temporary storage and moving, but if you're storing something in your attic, chances are you're planning to keep it there for a while. Opt for durable, plastic bins with lids that fit tightly. If an item is too large to fit in a bin, wrap it in a tarp that can cover the entire item.
Is your attic safe? Attics tend to be areas where the construction is fully finished off like in the main areas of the home. Exposed nails and other sharp edges will puncture items if you pile belongings on top of it. Try to keep the items you want to store away from these hazards.
Does your attic have a supported floor or shelving space? Most attics rely on the ceiling of the house to create a "floor". That mean the unsupported attic floor cannot hold much weight. Anything too heavy in one spot can push through the ceiling and leave you with a giant hole to repair. Avoid placing anything heavy on the attic floor and instead use support beams or built-in shelving.
Self Storage Plus is Your Storage Solution
If you've weighed the above considerations and decided that your attic space isn't the right place to store your belongings, you can rely on Self Storage Plus. Unlike your attic, our climate controlled storage units offer temperature regulation, making them the perfect place to keep any belongings that are temperature sensitive. And if you find yourself needing to move everything out of your attic at once, our drive-up storage units offer a convenient way to quickly unload all of your belongings and get back to your busy schedule.
Reserve a self storage unit near you today!