Home > Blog > How to Organize School Supplies in 5 Steps
How to Organize School Supplies in 5 Steps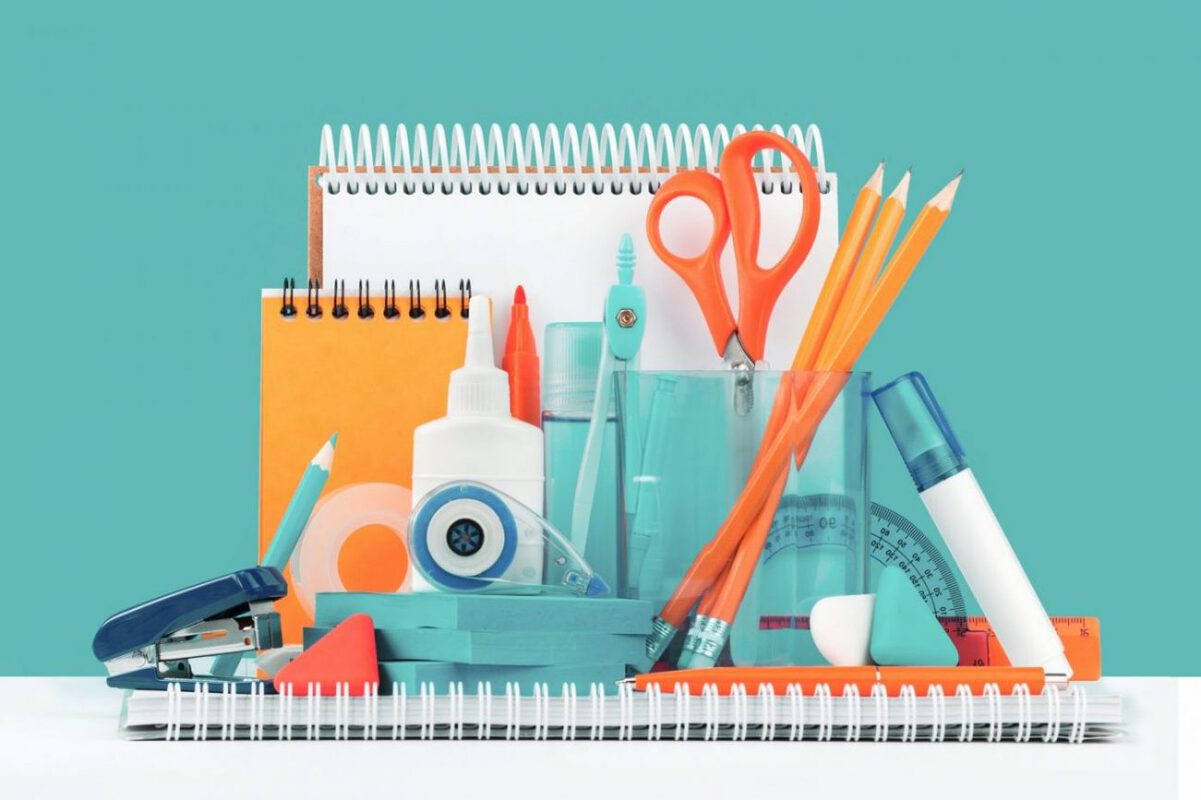 Just the thought of organizing the mountain of school supplies scattered around the house can feel overwhelming. Don't worry — our short guide can help you get those school supplies under control and ensure everything remains easy to find at home all year long.
5 Steps to Organize School Supplies
Step 1: Clean out and declutter.
Before you can organize school supplies, it's important to get rid of all the items that are no longer being used and are simply taking up space. Make a clean sweep of old pens and markers that no longer work, empty glue containers, and used paper. This will leave you space to start fresh — and motivation to get going.
Step 2: Break out the list and bulk up.
Using your child's list of required school supplies as a guide, make sure you also have extras for tackling projects at home. Buying school supplies in bulk is a time-management task you'll never regret, especially on the inevitable night before an assignment is due and there's not a crayon to be found.
Additional school supplies to keep at home:
No. 2 pencils and a pencil sharpener

Crayons and colored pencils

Markers (both thin and thick)

Home office

supplies like paper clips and binder clips

Glue sticks

Scissors (or safety scissors, depending on age)

Stapler and tape dispenser (with refills)

An extra ruler and calculator

Lots of paper (notebook and construction)
Additional supplies for older kids:
Post-it notes

Protractor

Index cards (3" X 5")

Binder or planner

Additional craft supplies (paperboard, old magazines)

Home office

items that accompany computer use (

printer, printer paper, ink, flash drives, etc.)
Step 3: Think twice to organize school supplies.
Remember that not all supplies need to be kept together. Keep enough school supplies in one area for use, and store the other supplies in a different area so you can easily replenish as needed. This ensures students' work area isn't covered with stuff and they have adequate space to work. Create your own supply cabinet with organizer bins or drawers that keep types of supplies sorted. This helps with time management for you and them: Kids can complete faster cleanup of their space, and you'll spend less time hunting when you need to replenish used items.
Step 4: Sort it out.
Depending on what space is available for completing homework, the following options can be mixed and matched to create an individual supply station that works for your child. Remember to save room to display their artwork and sneak in a note of encouragement to keep them focused!
Plastic bins are inexpensive and easy to label

Tin cans (you can also have your child paint them for a fun activity)

Shoe organizers/over-the-door organizer (most supplies will fit inside each pocket)

A file organizer for school papers (a file box can house all the files for the year and keeps reference materials

easy to find

throughout the year)

Clear jars can hold everything from pens to scissors

A muffin tin is a great way to organize smaller supplies like paper

clips, a stapler remover, push pins, etc.
Inspiration from the home office.
As your child gets older, consider adding the following items to their homework space to help grow their own organizational skills and keep projects on track:
A wall calendar to mark deadlines and upcoming events

Shelving units for books and artwork

A desk clock to help them learn

time management

Magazine holders

to divide school subjects and projects and easily maintain them

Notebooks, including accordion file folders and tabs so they can categorize assignments and handouts into organized slots
Step 5: Plan ahead.
You know better than anyone that once you have kids, things don't always go according to plan. Place extra supplies in a bag you keep in your car so you're always prepared for emergencies like realizing supplies have been forgotten on the way to school or a last-minute spill occurs on the way. Your car supply should include tissues, hand sanitizer, first-aid supplies, spare chargers and batteries, and a small number of pencils and pens in a portable case (or old water bottle). Then they can dig for what they need while you focus on driving.
How to Organize School Supplies for Multiple Kids:
Add labels

to items or the bins that hold them so it's easy to spot what belongs to who

Color code

magazine holders, file folders and even notebooks to keep track of different supplies for each child and their different classes and/or projects

Create a homework caddy

(found in the bathroom section of a home goods store) that allows for flexible workstations so supplies can always be available

Use shoe organizers

or over-the-door organizers for each child's room (most supplies will fit inside each pocket)

Invest in a rolling cart of supplies

as an inexpensive way to separate supplies for each child and keep things

easy to find

for them, plus you can use it to hang backpacks or sports bags
Stay Organized with Self Storage Plus.
For all things packing and moving, and more ideas on how to get organized this year, reach out to Self Storage Plus. We can help you get organized anytime with climate controlled storage units of all sizes. For more information, find a Self Storage Plus location near you.