Home > Blog > How to Maximize Your Kitchen Workspace
How to Maximize Your Kitchen Workspace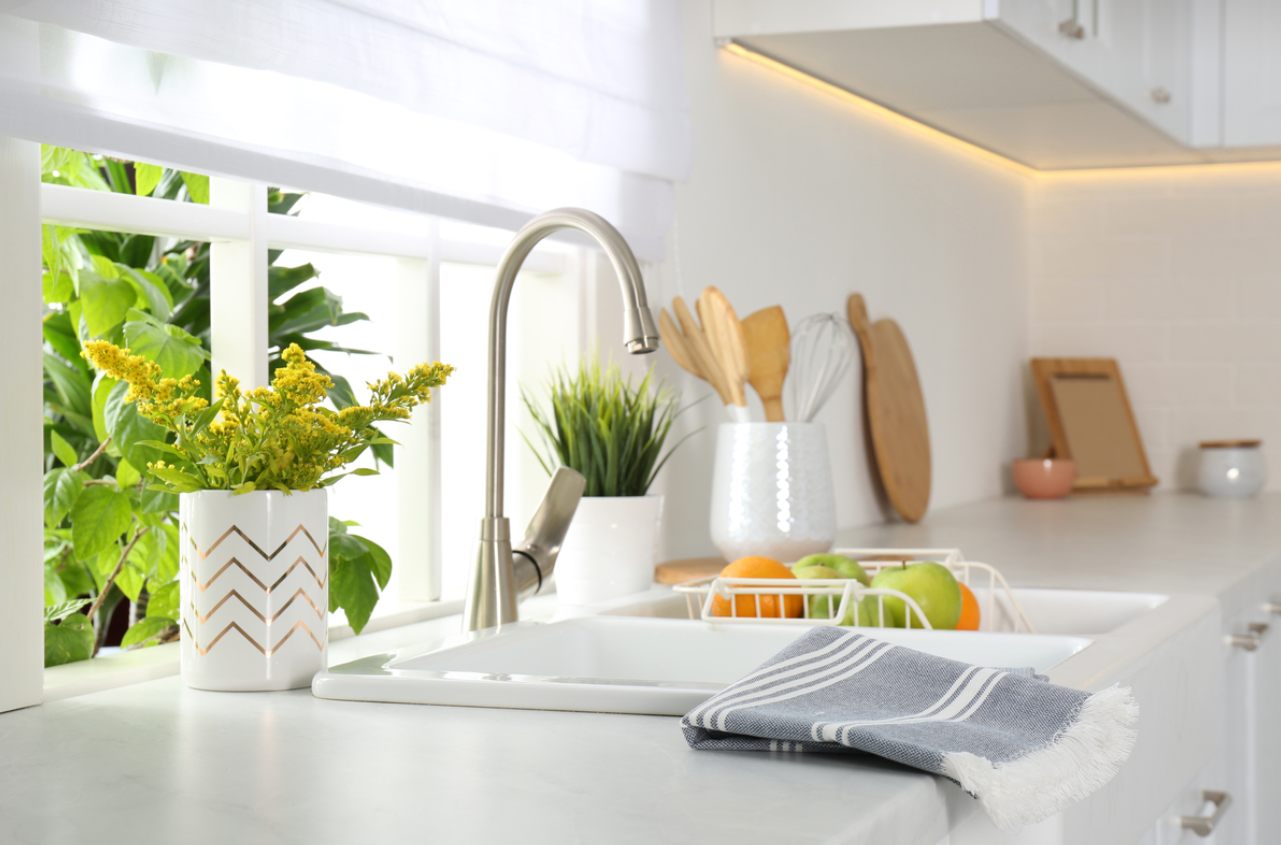 Many people say the kitchen is the most important room in the house, and it's easy to see why. It's where families bond, where friends naturally gather, where smells and tastes form our sense of home. Even if you don't spend a ton of time cooking, you can make the most of your kitchen workspace to spend less time looking for things and more time making memories with those you love. Read on for kitchen organization ideas that are simply delicious!
First, Clear the Way
Organizing your kitchen is like organizing your closet — it helps to first take inventory. You're likely to find utensils, dishes, even appliances that you don't use as often as you thought you would. You may even find multiples of the same item, if there are too many utensils crammed in a drawer or items left unseen at the back of a messy pantry. Start by piling up anything you don't use (you'll be surprised by how much you'll find when cleaning out drawers and getting to the back of those top shelves). Consider donating items or starting a box for your next garage sale.
Go with the Flow
An efficient kitchen starts with the right layout — one that allows for how you actually use it. Do you enjoy preparing meals with your significant other or other family members?  If so, how can you keep bulky items from getting in the way? Do you like to bake, or require large/multiple food prep areas? If so, acquiring more counter space should be your goal. It may seem unimportant, but considering the flow of your kitchen will help you decide what's most important to keep stored away in cabinets, within reach on open shelves, or nearby on the counter. Simply moving items to a different area of your kitchen workspace can help you use it more efficiently. Here are a few tips to keep in mind for an effective layout:
Store food in cabinets above the largest counter space, so it's within reach while cooking.

Store spices by the stove, where you'll most likely add them.

Keep dishes near the dishwasher, for easy loading/unloading.

Add dividers to drawers so you can keep items like utensils together in one place.

Move dish towels, sponges, and the garbage can near the sink for a comprehensive cleanup center.
Think Big In a Small Space
Now it's time for some fresh kitchen organization ideas! You don't have to have a large home to keep a clutter-free space. Think smarter, not bigger — you can actually create usable space and kitchen storage in unexpected ways. Here are just a few simple ways to make room, even in a small kitchen:
Add hooks under open shelves or kitchen cabinets to hang your favorite coffee mugs.

Use a cutting board made to fit over the sink to save counter space — and be able to rinse and chop in one step!

Install an open shelf or place a tiered tray into an empty corner to make extra room for dishes, spices or utensils.

Store knives on a wall magnet instead of using a bulky block on the counter.

Place a hanging organizer with baskets on the back of a pantry door for snacks and spices, or use hooks for measuring cups.

Group similar items together for a polished look — like matching utensils in a pitcher on a shelf.
Make It Move 
If you're still struggling to find enough counter space, consider adding a storage cart for extra items you only need occasionally, such as large serving platters or party supplies. This way, you can even move it out of the kitchen, if necessary, until you need it. A portable kitchen island can also double for a breakfast bar or accommodate extra guests. For off-site storage of these and other large items, if you're moving or reconfiguring your floor plan, there are many storage unit sizes available at Self Storage Plus.
Go Vertical With Storage 
Making the most of your vertical space can go a long way in decluttering your kitchen workspace. A common way to clear out room in your cabinets is to hang your pots and pans instead, preferably near the cooktop, utensils and other kitchen items you frequently use. Open shelves on an empty wall can also provide easy access to dishes, cookbooks or other tools, but it's important to specifically put items you use regularly there, so they won't collect dust.
Ask the Self Storage Experts
Do you have bulky kitchen items that no longer fit but you just can't bear to part with? Whether it's vintage cookbooks, seasonal serving dishes or wedding china, at Self Storage Plus we provide climate controlled rage you can trust for your items. For more kitchen organization ideas, find a location near you in the Greater  Washington, D.C. and Baltimore area, and let's talk!