Home > Blog > Small living spaces, 7 big storage ideas
Small living spaces, 7 big storage ideas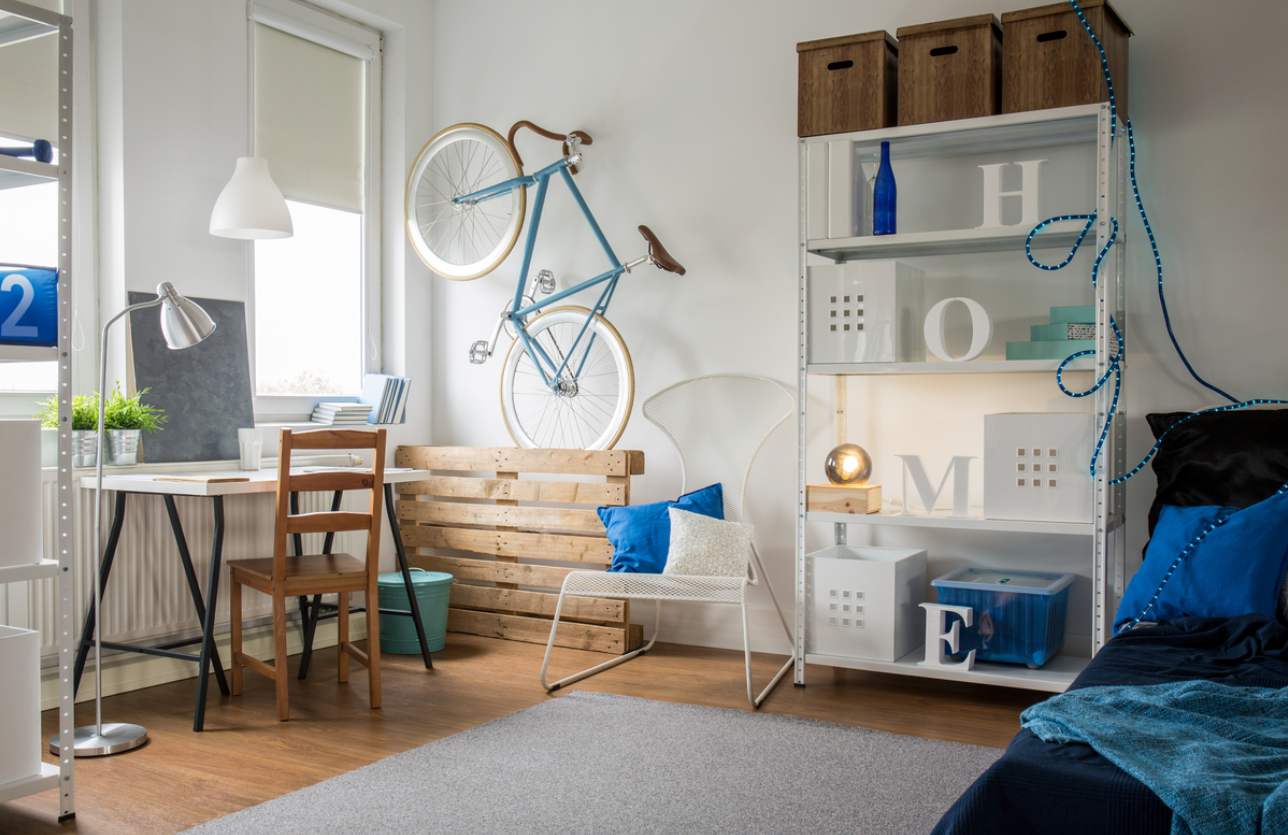 With the high cost of real estate over the past few years, it's becoming increasingly more difficult for people — especially more urban dwellers — to afford expansive apartments. When square footage is at a premium price, small apartments become much more attractive. And invariably, one of the first challenges isn't paying the rent; it's finding the storage. Where do you put everything?
If you've moved into a cozy little spot and need some small apartment storage ideas, these space-saving tips can help maximize your minimal space. And it doesn't need to cost you a lot of money; all it really requires is some ingenuity and creativity. The most important thing is to make sure everything and every space is doing double duty.
Small apartment storage idea #1: Maximize floor space by going vertical.
Every inch counts when you have little square footage to work with. One space-saving tip is to use your walls to store, display and contain items. If you have high ceilings, hang wall-mounted cabinets close to the ceiling for storage in an otherwise unused space. Install wall organizers that look more like art than furniture. Utilize baskets and caddies to store items like important papers, off-season clothing and other items. Hooks aren't meant just for coats; install a variety of eye-catching but sturdy hooks to hang anything from bags to bikes.
Small apartment storage idea #2: Make the most of shelving units. Shelves can hold almost anything in any room and look great doing it. They're perfect in the kitchen for holding canned goods, boxes of cereals and pastas, and even your dishware and glassware. Dress up your shelves with canisters for your staples like flour, coffee and sugar. In the living room, they can display your favorite books, photo frames, flower vases and artwork. In your bedroom, eliminate the nightstand by the bed and install a multitiered shelf in a corner. If you don't have much countertop or vanity space in your bathroom, corner shelving is perfect for holding items you use every day, like makeup, hand soap and a toothbrush holder. Floating shelves — which are simply wall-mounted shelves attached to a wall with no visible means of support — are ideal for small spaces, because they free up floor space while providing you spots for storage.
Small apartment storage idea #3: Turn one large space into smaller zones. Some apartment lofts may be nothing more than one large, open and undefined space — which you can turn into defined zones using furniture that doubles as storage. Start by using rugs to define spaces like the living room and bedroom. Use bookshelves to divide your living room, filling them with plants, books, or anything else you want to display. Use a shelving unit with drawers or baskets to separate the bedroom. The idea is to use bookshelves that offer visual distinction between functional zones as well as extra room to store your things.
Small apartment storage idea #4: Turn an unused nook under the stairs into your home office. With a wall-mounted desk, a small lamp and some shelves (of course), you can turn an under-the-stairs nook into your office space.
Small apartment storage idea #5: Utilize "hidden storage" throughout your apartment. What's hidden storage? Look under your bed. That's a perfect spot for adding low-profile storage containers to hold everything from sweaters and shoes to jeans, sweats and shorts. There's more hidden storage if you look behind your doors: Doors are perfect places to hang shoe storage racks and install extra hooks. Remember to use the wall space behind doors, too. Admittedly, the wall space isn't plentiful, and it's just a slim area between the back of the door and the wall. But it's enough space to install a corkboard to hold your watches or bracelets (see our next idea for more on that).
Small apartment storage idea #6: If you have lots of jewelry, install a corkboard in your bedroom. An 18×24 corkboard is perfect for hanging necklaces, earrings, small pouches with rings — hang it on the wall behind your bedroom door so it's even less obtrusive.
Small apartment storage idea #7: Use tables, benches and ottomans as storage. Steamer trunks are ideal for storing blankets and pillows; ottomans can be spots to both kick up your feet and hide these items, too. Use storage benches both around your kitchen table and to hide pots, pans and cookie sheets. A bench at your entryway can also hold shoes, snow boots, galoshes, umbrellas and jackets.
One of the best storage ideas for small spaces? Store your extra furniture, clothing, artwork and bedding in a storage unit. There are actually several good reasons to choose a storage unit.
First, people who live in small apartments don't usually stay there forever; eventually they move into a larger apartment or house. So instead of downsizing just to upsize again, store items in a storage unit until you need them.
A storage unit is also a great way to rotate items in your apartment to freshen up the interior look and design. If you like changing out artwork, small accent pieces and other features in your apartment, store the extras in your storage unit.
Finally, clothing: If you live somewhere that has all four seasons, you need four seasons' worth of clothing. The best place to store coats, boots, sandals and shorts is a climate-controlled storage unit.
Find a handy Self Storage Plus storage unit close to your small apartment. We've got many convenient locations around Washington, D.C.; Maryland; Virginia; and West Virginia.