Home > Blog > Our Top 5 Handbag Storage Ideas
Our Top 5 Handbag Storage Ideas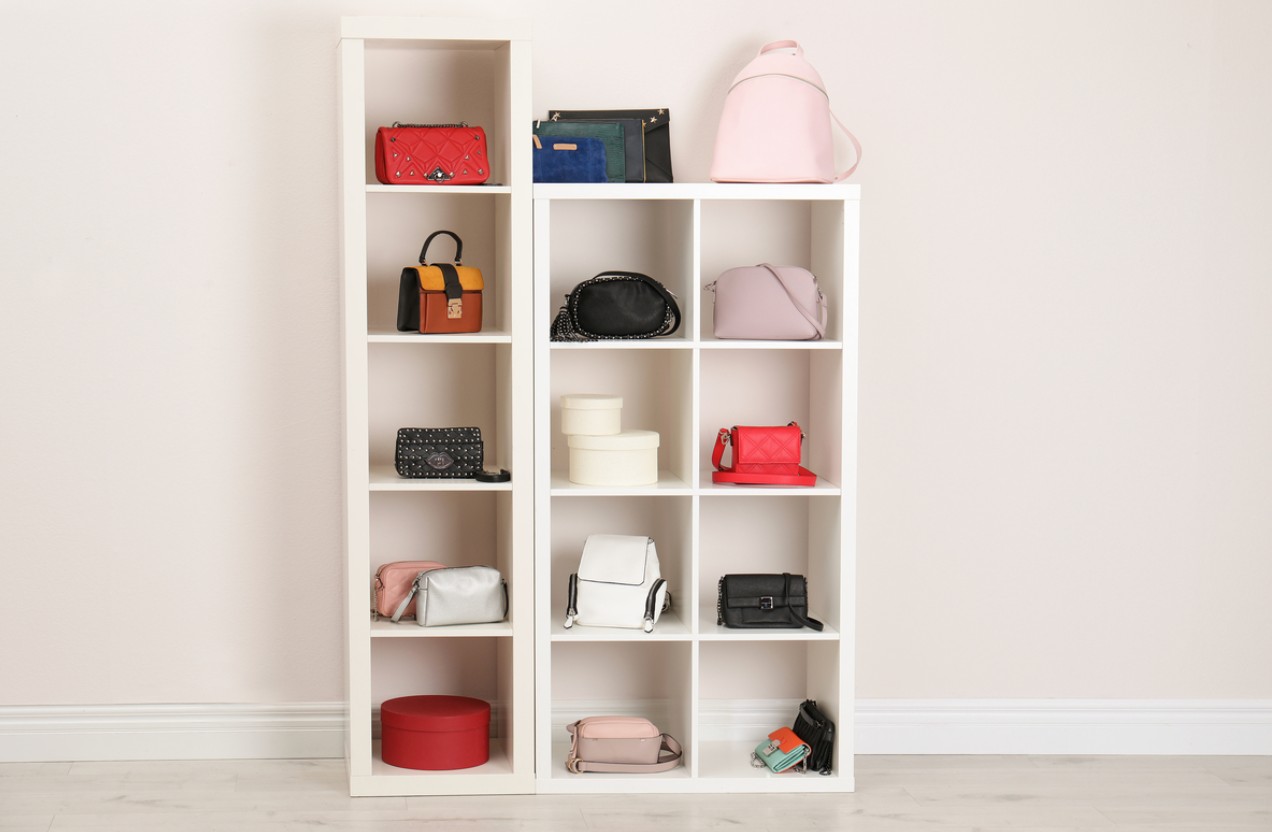 No plan for closet organization is complete without proper storage for your handbag collection. After all, who among us has only one handbag at home? Follow these 5 purse storage ideas to keep your collection protected and easily accessible. Once you do, you might be surprised how much more room you uncover for the rest of your items.
Idea 1: Hang Loose to Stay Organized
One of the easiest and most inexpensive ways to make room for handbag storage is with a hanging organizer. You can find all types of different designs, from organizers with hooks to those with baskets, depending on your style. If you have wall space available, and have multiple purses you want to display, consider wall hooks for a great presentation that's also well organized. Or make room within your hanging space in the closet by using shower curtain rings!
Idea 2: Separate with Shelf Dividers
Another option for keeping bags in sight while looking neat is to keep them organized with shelf dividers. This is ideal for clutches or for a large handbag collection that won't all fit on an over-the-door hanger. It's also a great way to color-coordinate your collection while eliminating clutter. For more support, to display your purses at their best, stuff them with tissue paper when storing on the shelf. Another way to organize is by frequency of use, placing your most-used handbags on lower shelves so they're easier to reach.
Idea 3: Use Storage Bins for Quick Access
When switching purses out for the season, keep them out of sight but well-protected within a storage bin. These are a flexible option, since they're space savers you can always reuse for something else later. Remember, it's important to use dust bags for protection against dirt, dust and pests when your handbags are put away or left unused for long periods of time, no matter which purse organizer you choose. For additional storage with even greater protection, consider the range of storage unit sizes available at Self Storage Plus.
Idea 4: Repurpose with Style
Think about your closet organization as a whole — and don't be afraid to get creative! Adding organization to your closet also gives you the opportunity to add your own personal style. A bookshelf can be a display cabinet for your handbags. Sweater cubbies can be switched out for summer purses. A hatbox can double as storage for an oversized handbag. There are so many options to choose from, and you can even change up your purse organizers every season, when you switch out your clothes and shoes. Fashion is fun — your organization should be too.
Idea 5: Sustain Your Handbag Collection
While these organization ideas are a great start, there may be valuable handbags you want to keep outside of your closet, such as heirlooms or rarely used pieces that require long-term handbag storage. Look to Self Storage Plus to find climate controlled storage you can trust for your most precious items. Don't wait to find a location near you in the Greater Washington, D.C. and Baltimore area. We can help with handbags and so much more.