Home > Blog > How to Create Curb Appeal
How to Create Curb Appeal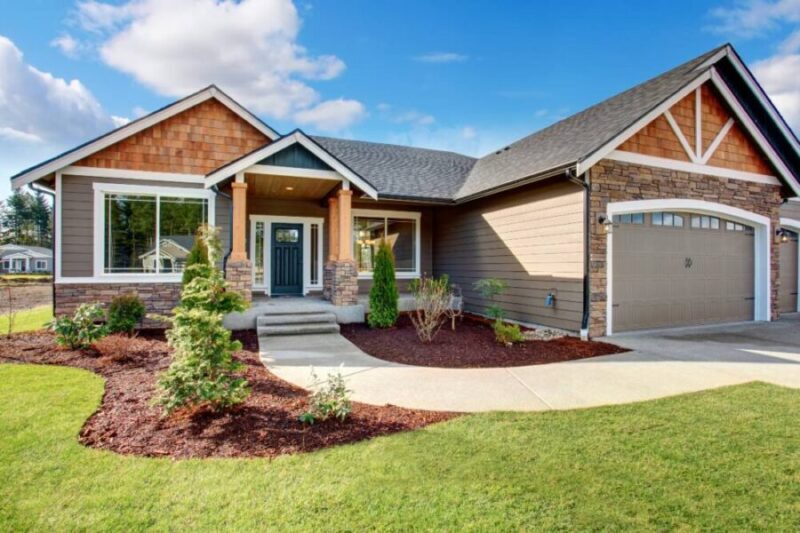 Before You Sell Your Home
If you're preparing to put your home on the market, remember that first, all-so-important view of your home from the street known as curb appeal. It's a homebuyer's first impression of your listing. Without it, you may have lost a potential buyer before they ever step foot inside.
Consider these curb appeal ideas below (many which can be done in an afternoon or over the weekend) to help you get the most from the sale of your home.
Start Simple: Maintenance
Wondering how to create curb appeal? Some of the easiest, and least expensive, ways are to simply maintain what you have. The most visible areas for curb appeal include the entranceways and front yard, so do a scan of what can be quickly and easily refreshed:
Mow the lawn:

A buyer may not notice, but they surely will if it's left undone.

Trim the shrubs: 

Not every shrub necessarily has to be pruned; if unsure about your plants, check online or with a nursery professional.

Use a pressure washer:

Adding that fresh, clean look to your driveway will make your listing shine!

Add fresh mulch around plantings:

This adds color and helps keep the soil moist for landscaping.

Hide the mess:

Don't let a tangled garden hose or unruly weeds spoil the scene.
Plant the Seed to Buy
Landscaping goes a long way toward attracting potential buyers, especially when it complements your home's structure and style. Consider these tips to bring color and contrast to your home exterior, helping set your home apart:
Install flower boxes: 

A relatively inexpensive option (especially if you're into DIY), flower boxes on

front porch

railings or under windows usually cost less than the soil and flowers that go in them!

Think local:

Native plants are the best to add to your

home exterior

, because they require less maintenance. Some of the most beautiful plants are native to the Greater Washington, D.C. and Baltimore, MD, area, from the dogwood tree to the coneflower, a colorful perennial that attracts birds and butterflies.

Stand out: 

Don't be afraid to go bold with colors when adding flowers to pots on the

front

porch

, within a seasonal wreath on the front door, or in flower beds surrounding the house. This is eye candy for buyers and welcomes them into bright and happy surroundings.
Repair and Refresh
Once you're enjoying how it looks outside your home, consider how to enhance it further by refreshing the home exterior. This doesn't have to be a time-consuming, expensive task; to add curb appeal, focus your attention on the details that are the most neglected:
Replace old hardware:

This includes exterior lights, house numbers,

door hardware

… anything a homebuyer may notice at the

front of the house

. The finish should match the style of your home (such as a warmer bronze finish for a more traditional style).

Paint your front door:

Remove any unsightly spots around the doorknob while refreshing the look of your

front porch

.

Upgrade your mailbox: 

If you're replacing an outdated one, consider installing a mailbox on your front door for added charm. If it's by the road, surround it with fresh flowers or paint the post to match the color of your house.
The Finishing Touch
To set yourself apart in a competitive market, consider how to create curb appeal in fun and interesting ways. After all, your home should be an extension of you — so show your buyers what makes your home so special:
Add a cheerful doormat:

Send a welcoming message from the start (or a memorable greeting on their way out).

Replace your door knocker or door handle:

A charming interactive element on the

front of

the house

invites guests in with a smile.

Enhance your space with art:

A water feature like a birdbath or fountain can soothe a stressed-out homebuyer in the summer, as can peaceful wind chimes on a cool, windy evening. Remember that not everyone shares the same taste, however; it's best to keep it simple.
Finally, for long-term curb appeal ideas that add value to your home, consider adding a new fence, painting the house, or replacing old gutters. These investments make great talking points for your real estate agent to share! 
Once You're Ready
Along with tips on how to add curb appeal, at Self Storage Plus we can help you take the next step in selling your home by offering a variety of storage unit sizes as you transition from selling your current residence to moving into your new one. Don't wait until your house sells — explore our property features now to plan for a stress-free move.
Find a self storage facility near you to get started.