Home > Blog > How to Store Christmas Lights for Easy Use Next Year
How to Store Christmas Lights for Easy Use Next Year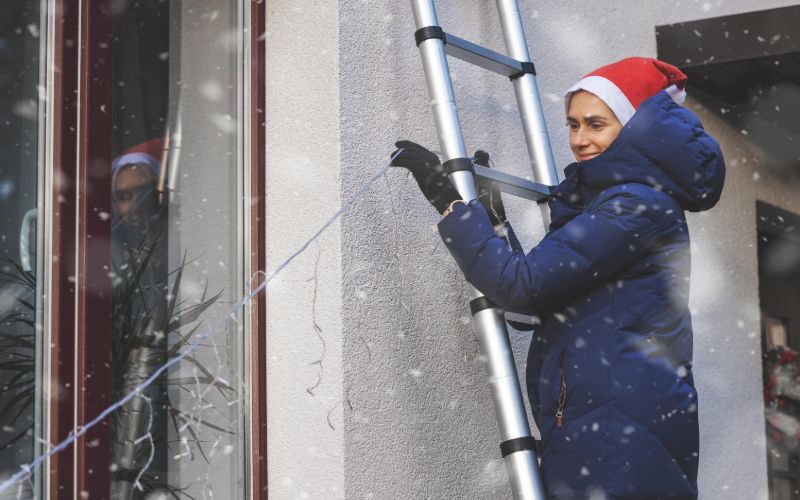 Your Christmas lights create a winter wonderland for your home each and every year. But every good thing must come to an end, which means all of your beautiful lights must come down again until next year. If you're like most people, you don't look forward to getting your tangle of lights out of storage each winter. To keep your lights manageable and orderly for next year, follow the tips below.
Tips for Packing Christmas Lights
Use a piece of cardboard. You may just want to get the job done and wrap a cord around your arm, but as soon as you move, the cord will become tangled again. Instead, grab a leftover rectangle cardboard piece and cut a notch out of opposite ends. Then, start wrapping your strand of lights around the board so they stay in place. You can even mark the length of the strand on the cardboard for easy sorting next year.
Take advantage of unused clothing hangers. If you have a spare hanger lying around, you can use it for Christmas light storage. Hook the end of the strand through one of the strap hooks, and then tightly wind it around the hanger. If your storage space has a hanging rack, this makes for even more convenient storing.
Invest in some cord reels. Cord reels were initially designed for extension cords, but they've been adapted to accommodate Christmas lights. There are several different sizes and styles to choose from, but they're all generally the same. They are reels that hold hundreds of feet of light cords, so you can actually store multiple connected light strands on one reel. Simply attach one end to the cord reel and start spinning. Then next year, you'll be able to grab the free end of the lights, pull and start decorating.
Store lights indoors. You may be tempted to store your lights in a shed or even to leave them up all year. However, that exposes them to the elements for too long, breaking the lights or rotting the cords. Find a safe, dry place to store your lights, so you can continue using them year after year.
Choose Self Storage Plus for Christmas Light Storage
If you're looking for a place to store your seasonal decorations and holiday lights, Self Storage Plus can help. With more than 45+ facilities in the Greater Washington, DC and Baltimore area, we offer a variety of storage unit sizes, so there's something for everyone. Our climate controlled units are perfect for keeping sensitive items like Christmas bulbs and string lights out of the fluctuating East Coast temperatures all year long. Debating between sizes like a 5×10 or a 10×10? Our storage unit size guide can help you pick the right size storage space for you.
Find a storage facility near you today, and see how easy self storage can be!